'The Legend of Zelda: Breath of the Wild' Nintendo Switch Video Game Review
The first game for the Nintendo Switch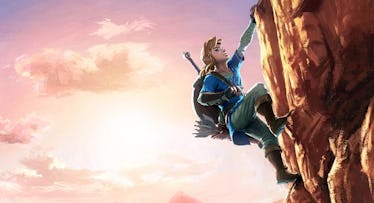 The Nintendo Switch is finally here, and with the launch of the innovative new system comes a reboot of Nintendo's flagship game, The Legend of Zelda: Breath of the Wild. Link is back in what's promising to be not just the best game for the Switch, but the greatest Zelda game in some time. So the big question: Is this sprawling world a new adventure for you and your kid, or is it doomed to be just another title from a forgettable system like the Wii U?
Wild is the one game that's expected to be associated with the console until the end of time. Just like how Super Mario World and Super Nintendo were the PB&J of gaming. While Nintendo has arguably been resting on its history for the past few years, it's worked! The Nintendo Classic has sold 1 million units so far ⏤ most likely from parents playing 30-year-old games with their kids. But it still felt like Nintendo was overdue for an innovation. And that's where the Switch shines. It not only combines portability with a traditional console, but it delivers their most impressive graphics to date. And Zelda looks to be the start of what's to come from the veteran gaming company.
For Kids
If your kid has never played Zelda, the story is still as simple as it was when you were 10-years-old. Link has to save Hyrule from the game's bad guy, Calamity Ganon. What's different this time is that it's an open-ended game, meaning there's almost nothing you can't climb or interact with. IGN said, "The untamed, post-apocalyptic, techno-fantasy land of Hyrule is the main character … it follows surprisingly realistic rules that let you pull off solutions so intuitive that you might be surprised they actually work." So even if you kids aren't into the story mode, what's better than walking around a fantasy land with a bow, arrow, and sword on a horse?
For You
Zelda is arguably more geared towards an older audience who know what to expect from the series. That being said, if you're a fan of the franchise, then this is a must-have title. The Verge said, "Shaking up of the age-old formula that has come to define the series, helps Breath of the Wild return to what made Zelda so beloved in the first place." The game looks like a perfect introduction to the world of Zelda for younger gamers, while at the same time, displaying an ideal balance of old-meets-new for older-timers. Plus, the game's main story mode clocks in at about 50 hours, so that means a lot of bonding time between you and Junior.
Reviews
Games Radar said, "It has taken 18 years, but Nintendo has done it again: this is the adventure game to beat. Polygon called the game, "frequently stunning, consistently striking visual achievement, evocative of legendary Japanese animation house Studio Ghibli's films in a way that seems lovingly influenced." The praise continues from IGN, Engadget, and Kotaku. No one hates this game!
Bottom Line
It's hard to remember a re-launched game being so universally praised and loved, but Zelda delivers on all expectations. If it's a sign of what's to come from the Switch, then Nintendo may be back to creating gaming memories for an entirely new generation. And their gamer parents.
Ages: 10+
Platform: Nintendo Switch
This article was originally published on