You Can Stream All the Classic 'Rocky' Movies for Free Right Now
Can't make 'Creed II' in the theaters? Binge the classic Rocky movies right now for free.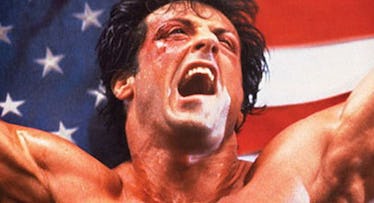 (MGM)
This week, if you've got time to go to the movie theater, you can't really do better than to catch Creed II, the sequel to 2015 film, Creed, which, is technically a sequel to the sixth Rocky movie, Rocky Balboa. Is Creed II also Rocky VIII? Kind of, but nobody really cares. In Creed II, Michael B Jordan plays Adonis Johnson Creed, the son of Apollo Creed (Carl Weathers), Rocky's (Sylvester Stallone) one-time rival in the original films. And, unless you were some kind of a hermit in the eighties, you probably remember when Ivan Drago (Dolph Lungren/He-Man) killed Apollo Creed in the ring in Rocky IV. Now, Creed II is pitting Creed junior against Drago junior, with Rocky, once again, acting as the Obi-Wan Kenobi for young Creed.
But, if you can't catch Creed II in the theaters this week — or ever, because you have a baby — you can still get in the Rocky spirit. The first five Rocky movies are streaming for free — legally — on YouTube. Really!
On October 1st of this year, YouTube made Rocky I, II, III, IV, and V free to watch. There might be some ads in between, but this is amazing news if you're planning on having some you-time over the holidays. If you're only watching one Rocky movie, we recommend Rocky IV, because, let's face it, it's the most enjoyable one of the bunch.
Here are all the YouTube links to Rocky 1-5. Links to how to watch Rocky Balboa (Rocky 6) and Creed follow the YouTube links.
Rocky (1967)
Rocky II (1979)
Rocky III (1982)
Rocky IV (the one with Ivan Drago)
Rocky V
Rocky Balboa (2006)
The 2006 "I'm getting too-old-for-this-shit" version of Rocky is not free on YouTube, but if you want to hit it up (it's pretty great) you can do so on Amazon, YouTube or iTunes.
Creed (2015)
Creed is also streaming-to-rent on YouTube, Amazon, and iTunes. It's critically acclaimed and there's a new sequel to it for a reason. If you haven't seen it, treat yourself.
Creed II is out in theaters this weekend.
This article was originally published on