WTF Is 'Moon Knight' and Why Is Oscar Isaac Playing Him For Disney+?
All your questions, answered.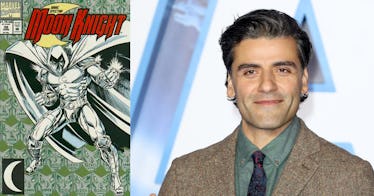 Gary Kwapisz;Getty
Oscar Isaac has played Saint Joseph, Llewyn Davis, Poe Dameron, Paul Gauguin, Romeo Montague, Apocalypse, Gomez Addams, Hamlet, Duke Leto Atreides, and other memorable characters so far in his remarkable stage and screen career. Now, according to reports in the Hollywood trades, he's this-close to portraying Marc Spector in a Moon Knight, a series for Disney+. Say it with us: Isaac is playing who, in what?
Marc Spector is the central character in Moon Knight, one of Marvel Comic's more obscure titles. Marvel's site offers a crisp one-sentence description of the property: "Struggling with multiple personalities and amoral inclinations, Marc Spector fights on against all odds as the cloaked avenger Moon Knight." A costumed superhero character in the vein of Bruce Wayne/Batman, Marc Spector/Moon Knight was first introduced to comic book readers in 1975, when Doug Moench (writer) and Don Perlin (artist) featured him on the pages of Werewolf by Night #32. The soldier/boxer/mercenary/martial artist has been around, on and off, ever since and currently features in the ongoing Marvel Legacy books. Among the major differences between Moon Knight and Batman are that Moon Knight contends with a trio of alter egos and, perhaps most importantly, he has possessed – and lost – superpowers. He's also evolved over time from a villain to a troubled hero. As the trade magazine Variety puts it, "(Spector) decides to fight crime after he becomes the human avatar of Khonshu, the Egyptian god of the moon." And the fuller the moon is, the stronger he becomes. Spector also happens to be Jewish and is, in fact, the son of a rabbi.Moon Knight will reunite Isaac with both Marvel and Disney, with whom he worked respectively on X-Men Apocalypse and the Star Wars films The Force Awakens, The Last Jedi, and The Rise of Skywalker. The actor's other upcoming projects include the completed films Dune, The Card Counter, and Big Gold Brick, as well as the limited series Scenes from a Marriage and the just-announced film, Francis and The Godfather. Meanwhile, Moon Knight will be part of Disney's major commitment to televised Marvel Cinematic Universe shows for the Disney+ pipeline. On the way are The Falcon and the Winter Soldier, WandaVision, Loki, Hawkeye, She-Hulk, and Ms. Marvel.
This article was originally published on