World's Biggest Inflatable Obstacle Course Is A Bouncy House For Adults
Full of hot air — and broken dreams.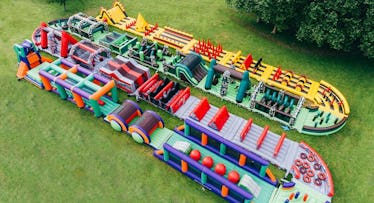 You may know it as a moon bounce, a bounce house, or for those in England, a bouncy castle. The first of these inflatable structures was designed in 1959 by John Scurlock. At the time he was experimenting with tennis court covers, but then he discovered his employees liked jumping on him. The proof of concept was originally for adults, not kids — they just took it over (like everything else). The makers of the current World's Largest Inflatable (aka The Beast), kind of think it should've stayed that way.
According to their website, The Beast is technically safe for kids ages 10 and up (or 12 and up without an adult), but also notes, "We want to focus on the adults for once." That may be hard to comprehend if you've never heard those words used in the same sentence before, but V-formation, the Belgian company behind The Beast, wants is to give grownups the chance to feel like a kid again. Plus with 32 inflatables combined spanning over 2 football fields (893 feet), your kid would inevitably make you carry them through it. It reportedly leaves participants dead tired at the end. As a parent, you're probably in touch with that emotion.
"Not only do we want participants to push their limits, we have set ourselves a goal of reaching one kilometer with our inflatable obstacle course," Rik De Lannoy, one of the cofounders says. That's about 3,281 feet, if you're not tired already. The Beast is quite the world traveler as well, and can be rented for community events, festivals, and even weddings all throughout the world. And at that size, it better pay for being paying for at least 2 seats. Finally, a good reason to renew your vows.
This article was originally published on