'Wonder Woman 1984' Will Debut on HBO Max This Christmas
The release date for the highly-anticipated DC superhero movie has changed, but this time, you can watch it at home.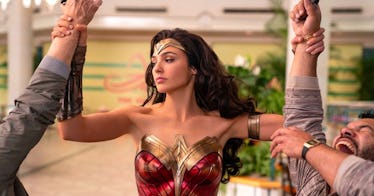 Warner Bros; DC Entertainment
Looks like you're going to need to sign-up for HBO Max! The massive DC superhero movie, Wonder Woman 1984 will hit theaters on December 25, 2020, but it will also debut straight-to-streaming on HBO Max. So, if you don't have HBO Max yet, it might not be a bad time to sign-up.
After a ton of speculation, and several moved release-dates, the sequel to 2014's Wonder Woman will not cost HBO Max subscribers anything additional to stream. Basically, this isn't a Mulan deal. If you have HBO Max, you will get to watch Wonder Woman 1984 on Christmas Day at no extra cost.
For the record, HBO Max costs $15 a month, but it doubles as an HBO subscription, which means you have unlimited access to all of HBO's library content, which includes shows like Veep, Game of Thrones, Westworld, and more. HBO Max works with Amazon Fire and Google Home, but not all of its features work with Roku. That said, you can sign-in to the regular HBO app on Roku using your HBO Max password, and get most of the same content.
After Wonder Woman 1984, more releases are on the way. In January 2021, HBO Max is also debuting the long-awaited "Snyder Cut" of the 2017 film Justice League. Chronologically, Justice League occurs after Wonder Woman 1984, because yes, the new Wonder Woman movie is a period piece set in the year 1984. (Recall: Diana Prince, AKA Wonder Woman is quasi-immortal.)
The new film's retro-vibe echo the Lynda Carter Wonder Woman TV series from the '80s. Though, it's unlikely that the lyric "her satin tights, fightin' our rights" will be retained. But hey, you never know?
You can check out HBO Max here.
This article was originally published on