With the Travel John Junior, My Kids Pee Right in the Car
Sure, it sounds weird. But road trips have never been easier.
by Matt Tobey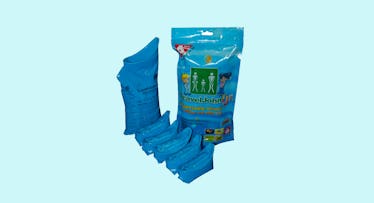 The sign ahead reads "Last Rest Area for 10 Miles." I turn to the backseat, "Kids, anybody need to use the bathroom?" If you're a parent, you know how it goes from here: The kids insist they don't have to go until one nanosecond after you pass the rest stop when suddenly they've gotta go and bad. Eventually, they can't hold it any longer. The kids explode, and you're left cleaning up the mess. It's not pretty. It also used to happen to me every time my family took a road trip. Until, that is, my wife discovered the $10 Travel John Jr. portable toilet.
The Travel John Jr. is basically a disposable plastic bag in which your kids can urinate on the go. At the bottom is a gel that works like the absorbent part of a diaper. At the top, there's a hard plastic ring to help prevent stray streams, and it's shaped to allow for easy use no matter what equipment your kids are working with. So simple, yet so brilliant. It's our generation's Theory of Relativity. And, man, is it a life changer.
See more: Best Travel Strollers
On a good day, my two boys can't manage to hit the inside of a toilet bowl reliably. Somehow, however, they've never missed the opening of the Travel John Jr. ⏤ even while using it buckled up in a moving car. And while taking a leak in a bag in front of your family at 70 mph might sound awkward on paper, in our experience, it's a shameless endeavor. The kids are just grateful they don't have to hold it anymore, and everyone else is thrilled to not be cleaning up an accident. Or worse, stopping again after only 15 minutes on the road.
The Travel John Jr. is designed to absorb 21 ounces of "liquid," which based on my experience is more than enough to handle a bladder-full from either of my kids. In fact, it's designed to be used until it's full, so you could probably have two kids relieve themselves in one bag. Maybe a little gross and we haven't resorted to that, but hey, no judgment. And on the off-chance your little one just knocked down a bomber full of SunnyD, the absorber pack weighs down the bottom to prevent tipping and spilling. The gel also manages to render the pee odorless, so it won't stink up the car if it takes you awhile to find a trash can.
As the name implies, there is also an adult-size Travel John, which is rated at 28 ounces. But based on my own, uh, field research, the Jr. can handle a full serving of grownup whizz without breaking a sweat.
If I have one concern about the Travel John Jr., it's that it doesn't lock closed. Sure, the pee is all soaked up in a gel ball, and we've yet to have a spill, but there's still something a bit unnerving about driving with an open urine sack on the passenger-side floor. My advice: keep a few plastic grocery bags in the car so you can tie up your used Travel Johns until the next pit stop.
Half a dozen of them will easily fit in your glove compartment and, again, only set you back $10. Which is a fraction of the cost most of us would be willing to pay for a bathroom to materialize in those most desperate road-trip moments. Not to mention the fact that having a few of them on-hand could very well prevent your child from exploding.
Every product on Fatherly is independently selected by our editors, writers, and experts. If you click a link on our site and buy something, we may earn an affiliate commission.
This article was originally published on