Kickass Dragon Books 'Wings of Fire' Will Become a Netflix Cartoon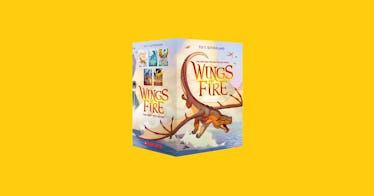 Ava DuVernay, the Oscar nominee and Emmy Award winner who entered the fantasy filmmaking realm with her adaptation of A Wrinkle in Time, will return to the genre with the family-friendly project, Wings of Fire. DuVernay is set to executive produce an animated event series for Netflix based on Tui T. Sutherland and Scholastic's bestselling series of books.
Wings of Fire unfolds during a bitter war that has raged for generations between the dragon tribes who inhabit the epic world of Pyrrhia. Prophecy promises that five young dragons will rise to stop the bloodshed and bring peace back to the land. Brought up and clandestinely trained since they were hatched, the Dragonets of destiny – Clay, Tsunami, Glory, Starflight, and Sunny — embark on an evolving quest that will bring them face to face with their true selves… and the overwhelming scope of the savage war they're destined to bring to an end."Within this epic book series from the mind of Tui Sutherland is an elegant saga filled with wisdom and wonder, exploring ideas of belonging and bias, camaraderie and community," DuVernay said in a statement. "On behalf of my colleagues Sarah Bremner and Paul Garnes of ARRAY Filmworks, we're thrilled to partner with Netflix and Warner Bros. Animation for this dynamic adaptation where five young dragonets fulfill their destiny and show viewers how to fulfill their own."
Netflix did not offer details about an air date for Wings of Fire, but the streamer did reveal that 10 episodes, running 40 minutes each, will be produced. Sutherland's most recent Wings of Fire book, The Dangerous Gift, was released in March.