Yep. A New 'Willow' TV Series Is Coming to Disney+
George Lucas' OTHER fantasy property is making a big comeback. Willow himself — Warwick Davis — will return.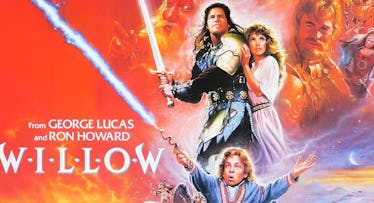 Willow is back. Today, Disney+ and Lucasfilm revealed that a new TV series based on the 1988 fantasy movie Willow is coming to Disney+. The question now is: Do you remember Willow?
If you do, then you recall what the cinematic world felt like after 1983. For some of us, this was a world in which we were told that Lucasfilm, the production company that made Star Wars and Indiana Jones was just getting started. In 1989, I had a Lucasfilm calendar, which had images from the classic Star Wars trilogy, Indiana Jones, and also a biopic called Tucker, which stars Jeff Bridges and is just kind of okay. But, this calendar also had images of Willow on it.
Yes. Willow. The one-off fantasy film that reminds us that the 1980s was a decade in which honest-to-goodness sword and sorcery down-and-dirty Dungeons and Dragons-style movies were trying to make their way into the mainstream. Arguably, Willow is among a type of '80s movie which we've all kind of forgotten: This was the era of Legend, and Dragonslayer and Conan movies. But the essential difference was that Willow was a movie your parents let you watch, and it starred Warwick Davis, the guy many of us knew — even back then — had played Wicket the Ewok in Return of the Jedi. So, far, Warwick Davis is the only confirmed cast member for the new Willow series.
And now, after what seems like way too long, Willow is back. The series will be directed by Jon M. Chu and produced by Ron Howard, who directed the original Willow. The pilot for the series was written by Jon Kasdan, who co-wrote Solo: A Star Wars Story with his father, Lawrence Kasdan. It is unclear as of this writing if Val Kilmer and his sword will be mentioned, or alluded to in a flashback.
Fantasy is back. Long live the '80s. Long live Willow!
There is no release date for the new Willow at this time.
This article was originally published on