Willem Dafoe on 'Saturday Night Live': Here Are the 4 Best Sketches
We're not even going to talk about Katy Perry's mushrooms.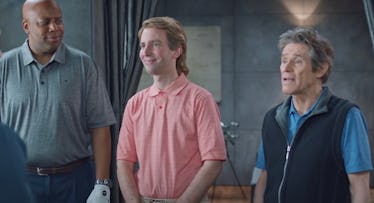 Credit: NBC
It's one thing when a show makes you laugh. It's another thing when you snort so hard your wine comes out of your nose. And when Willem Dafoe hosted Saturday Night Live, he did at least one, maybe two sketches that hit that mark. Is it his "expressive" face? Was the writing just better this time out? It's unclear, but to paraphrase Klaus, one of Willem Dafoe's best characters from The Life Aquatic, we didn't just like this SNL episode – we loved it.
In fact, Willem Dafoe's SNL hosting gig on January 29, 2022, was so funny, we barely had time to think about Katy Perry's, um, mushroom dancers. Here are our picks for the four funniest SNL sketches from this episode.
Now I'm Up
All the reasons you've been waking up in the middle of the night are brilliantly explained in a new jam featuring Chris Redd, and Keanan Thomspon. Yeah, Dafoe's late-night soul patch will haunt you. Forever.
Beauty and the Beast: The Mirror
Everyone remembers Belle's father in Beauty and the Beast, the "crazy old" inventor named Maurice. But what does Maurice get up to while he's by himself? On paper, this sketch is basically about an old guy getting ready to masturbate while he's alone. And yet, Willem Dafoe turns this into art. How? The only answer is magic.
Martin's Friend
Okay, so Willem Dafoe wasn't in this one, but the lovable guys in Please Don't Destroy are back! In this one, Martin decides that hanging out with a 10-year-old totally rules. For those of us with 10-year-olds, or kids who are great a dropping sick burns, this sketch hit hilariously close to home.
Nugenix
This is how you do d*ck jokes. We all know that when you hit 40 (or 30?) you just can't get hard anymore. Wait! That's not true? Why are you saying that Willem Dafoe? And what's that robot sound coming from your groin area? If this doesn't make you laugh, nothing will. Oh, now you're interested.
The current SNL season will take a break this coming Saturday but return later this month with John Mulaney. You can watch full SNL episodes streaming on Hulu or Peacock.
This article was originally published on