Will Smith Might Be the Genie in Live-Action 'Aladdin' Reboot
This lamp might be from west Philadelphia.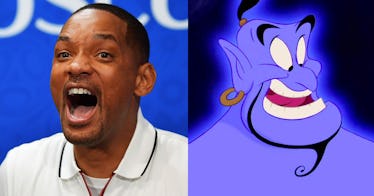 Getty; Disney
It's looking more likely that Will Smith will land the role of Genie in a Guy Ritchie (seriously) live action remake of Aladdin. The movie will be another is a series of live-action recreations of animated classics, the last of which, Beauty and the Beast, grossed over $1 billion worldwide in about 12 minutes. If Smith, one of the world's most bankable stars when he's not doing soft-focus social commentary, gets the gig, the movie will likely be a box office triumph — if not a critical darling.
As Deadline reports, it's still to soon to call it for sure. In the past, Smith had also been in "talks" with Tim Burton about a role in Dumbo and those never went anywhere despite the former alien hunter's impressive ears. But there's no denying Smith's body of work would make him more than qualified to play the Genie. He proved he has the chops to effective ground a supernatural character in Hancock. And his dancing in everything from Men in Black to "Getting Jiggy Wit It" makes it seem like he would be able to crush songs like "Friend Like Me."
On top of that, he's probably learned a lot about magic from Scientology.
The production is supposed to start in the U.K in July and wrap early next year, so if they're going to lock Smith down, should be relatively soon. Until then, fans will continue to speculate on who will fill the gaping void left by Robin Williams.
It is also worth noting that casting rumors around Disney's live-action slate are becoming a staple of Hollywood's trade publication. No star is too big to make sense and the heavy use of CGI makes it unclear what typecasting could even look like. The long and the short of it: You can't trust the rumors, but you can hope for a future in which Smith performs "Welcome to Aqaba" Big Willy style.
This article was originally published on