Will Forte's Hosts SNL: 4 Best Sketches From the MacGruber Comeback
MacGruber did not do the celery trick on SNL, but it was a great show nonetheless. Here are the highlights.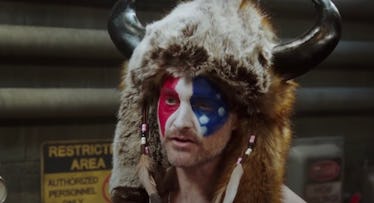 Credit: NBC
Although we had no way of knowing it at the time, the roughly 2005 through 2012-ish SNL-era was freaking gold. Not only was it the heyday of The Lonely Island, but also Kristen Wiig, Maya Rudolph, and yes…Will Forte's brand of deadpan absurdity. For whatever reason, we're in a bit of a MacGruber renaissance right now. The new TV series — which reunited Wiig, Forte, and Ryan Phillippe from the cult-classic SNL movie — is streaming now on Peacock.
But, even if you're not caught in the new show, Forte returned to host SNL bringing Phillippe and Wiig with him. In case you missed it, here are the four best sketches from Will Forte's 2022 Saturday Night Live episode.
Kid Klash
Remember how utterly bizarre Double Dare was back in the day? So does this sketch. In it, Forte plays an unhinged gameshow host, forcing a teen (Aidy Bryant) to wade through some whipped cream to find that damn flag. This is sketch is dark as hell, and a good reminder that yes, all those Nickelodeon shows from the '90s were straight-up deranged.
Three Guys Who Just Bought a Boat
Colin Jost, Pete Davidson, and Alex Moffat drop an endless amount of penis jokes in this unwieldy and hysterical sketch that isn't really about having just purchased a boat. Or is it? Frankly, the best part of the sketch was just watching these guys almost lose it the whole time.
MacGruber Goes Full QAnon
Will Forte's return to SNL gave us three interconnected MacGruber sketches in which we learn that…MacGruber has basically become a terrible person. Even if you're sick of anti-mask, anti-vax, or QAnon jokes, Forte nailed all of this. Totally hilarious, and yes, we buy that MacGruber would be this dumb.
Threesome
The only thing that eclipsed Forte's return as MacGruber was "Gannon," a so-called "experienced third," who just refused to call Tate (Mikey Day) anything but "Taint." On top of that, Gannon's basic look is just priceless. Imagine if Guy Feri were fused with a low-rent porn star and you've got the picture. This sketch is raunchy, uproarious, and great.
Next week, on January 29, Willem Dafoe will host Saturday Night Live, clearly on a kind of Spider-Man: No Way Home victory lap. You can watch SNL on Hulu or Peacock.