Here's the Surprising Reason LeVar Burton Doesn't Want to Host Jeopardy!
The 'Reading Rainbow' and 'Star Trek' icon says he is glad he didn't get chosen to replace the late Alex Trebek.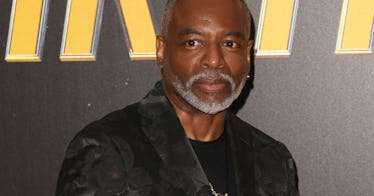 GETTY
Ever since the search began for a new Jeopardy! host to replace the late Alex Trebek, the world — both online and off — rallied around one name: LeVar Burton. The surge of support earned the former Reading Rainbow host and Star Trek icon a chance to be one of the show's guest hosts. He openly said, many, many times, that he would want the job permanently. But all that has changed.
Controversially, Burton was one of many people who were passed over for the gig. And now, but during an interview on The Daily Show, he explained that he was actually happy that he wasn't chosen to host Jeopardy!.
Burton said that the Jeopardy! job was a case of being "careful of what you wish for" because he admitted that he was actually more drawn in by the idea of hosting the show than the actual reality of the gig.
"[W]hat I found out is that it wasn't the thing that I wanted after all," Burton told Noah. "What I wanted was to compete."
Big Bang Theory actress Mayim Bialik was eventually selected as the primetime host while former Jeopardy! champion Ken Jennings is set to be the guest host for the syndicated episodes while the search for a permanent host continues (many believe Jennings may eventually be given the job).
As for Burton, he told Noah that he is excited by other opportunities that have come up because of his guest-hosting stint and that he is still weighing his options.
"I never thought about hosting any other game show outside of Jeopardy!," Burton said. "But now, they went in a different direction with their show, which is their right, and now I'm thinking, well, it does kind of make sense, let me see what I can do. So we're trying to figure out what the right game show for LeVar Burton would be."
Well, whatever the "right game show for LeVar Burton" turns out to be, I can't wait to watch it.