Why Every Parent Should See the Documentary 'Far From the Tree'
IFC Films brings author Andrew Solomon's book about parents raising wildly different from themselves to the big screen and the results are staggeringly profound.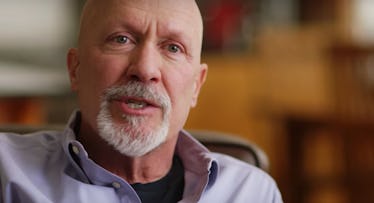 The experience of parents raising children who are affected by genetic disorders is often fetishized in various media as a source of inspiration. It seems you can't raise a child with autism or down syndrome without being labeled as brave or strong. And sure, many of those parents do have those qualities, but when we fail to acknowledge their guilt, sadness, and anger, we dehumanize them in an essential way. The new documentary Far from the Tree, based on the best selling book of the same name by Andrew Solomon, does just the opposite. It shows us the reality of raising a child vastly different from oneself, with all it's less championed emotions and reveals both the sorrow and the beauty of families faced with genetic diversity. As such, it should be required viewing for parents everywhere.
As a book Far from the Tree received critical acclaim for Solomon's open-eyed exploration of what it means to raise a child who is "different." Solomon began the project as a way to come to terms with his own childhood as an eccentric homosexual boy raised by staunch heterosexual parents. He wanted, in particular, to delve into the experience of his mother who passed away before ever accepting his sexuality. But he wondered if his childhood was really any different than other genetically diverse children raised by typical parents. So he began speaking to parents raising children affected by Down syndrome, autism, dwarfism and parents of killers in prison. What he realized was that all of these experiences had an essential conflict between craving normalcy and celebrating difference.
"For a long time, I thought that being gay was something you could make the best of. That gay relationships were less than straight relationships," Solomon explains in the film. But he notes that the world changed drastically around him, and suddenly his homosexuality was an identity to be championed.
"How was something that was understood to be an illness come instead to be an identity?" Solomon asks. "That is what drove my investigation. In living to see what I saw as a defect to be celebrated, I wondered whether defectiveness itself was a matter of perspective … How do we decide what to cure and what to celebrate?"
That is the core question of the film that lingers empathetically on the lives of some of Solomon's subjects. Using Solomon's own life as a narrative background, we meet Jason who, in his youth, was a literal poster boy for the acceptance of down syndrome, Jack, who is living with autism, and Joe Stramondo and Leah Smith a married couple affected by dwarfism trying to have their own child. Through each of their stories, we are witness to how difficult it is to navigate the isolation of these unique family lives.
In nearly every story, the same arc is repeated: the parent becomes aware of their child's difference and falls into a spiral of guilt and self-recrimination. Then, there are attempts to find some kind of solution. In one sequence we see Jack's parents rattle off a list of attempted interventions to manage his profound autism. They range from hyperbaric oxygen treatment to homeopathy, to speech therapy. But it's only when a specialist helps Jack communicate on his own terms that they break through and begin to communicate with their son for the first time when he's well into his adolescence.
For every parent in Far from the Tree, the end of the arc is acceptance and love. Even as the parents of Trevor Reese try to start fresh with their child serving a life sentence for murdering an 8-year-old, there is acceptance and love. Even as Joe and Leah welcome a baby who will be average size, they lean into the challenge and the fact that they will love their kid no matter what.
"Everyone has kids with flaws and problems," Solomon says in the film. "But nobody goes around saying they would like to turn their kids in for a better model. You love your children. It really isn't up to you. They just come along and change you."
And that's really what we take away from Far from the Tree. You don't leave the film thinking, "Gee I wish I could be as strong and brave as those parents." You walk away thinking, "I'm determined to love my kid, with all of their faults and flaws, that much more." Because as Solomon points out, it's not our suffering that's unique as families, it's our happiness.
-Far From the Tree is playing in limited release in New York and California.-