Why Every Family Should Watch Joaquin Phoenix In 'C'mon, C'mon'
The new Mike Mills film is an indie masterpiece.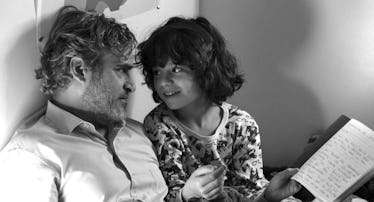 Credit: A24
C'mon, C'mon is the rarest of rarities, especially right now: a small movie you'll want to see on a big screen, with as many people as possible, to best share the communal experience. It's a great film for parents and a wonderful indie movie in general.
Written and directed by Mike Mills, the intimate drama centers on Johnny (Joaquin Phoenix), a radio producer-journalist who agrees to fly from Detroit, where he's working, to Los Angeles to temporarily care for Jesse (Woody Norman), the 9-year-old son of his sister, Viv (Gaby Hoffmann). Paul (Scoot McNairy), Viv's estranged husband and Jesse's dad, is suffering from emotional issues and Viv heads out to Oakland to try to help him. Viv's stay goes longer than expected, giving Johnny and Jesse time to bond over the course of a road trip that takes them to New York City, where Johnny lives, and New Orleans.That bonding process is sweet and fraught, however. Johnny is private and a loner, though great with the kids he interviews as part of a program he's working on, and Jesse is preternaturally smart and perceptive, though also, like any little kid, prone to having the occasional tantrum or asking the inappropriate question. Jesse worries about his dad and wonders aloud about possibly inheriting his father's problems. Johnny begins to think he's in way over his head with this surrogate father thing. It's exciting to watch Jesse spend time in Johnny's personal and professional world (even carrying his sound equipment), and to witness Johnny try to understand and connect with his nephew. And, while off-screen for much of C'mon, C'mon, Viv factors in tremendously, calling Johnny and Jesse to check in, and talking Johnny off the ledge when he's not sure how to interact with Jesse. Along the way, Johnny and Viv tackle their own falling-out, a situation caused by the divergent ways in which they dealt with their mother's terminal illness and eventual death a year earlier. Mills tells an affecting, emotional story without manipulating the audience. Any tears fall naturally. And the film, without beating anyone over the head, is ultimately about listening – and hearing. C'mon, C'mon is actually of a piece with Mills' previous efforts, Beginners and 20th Century Women, in that it's deeply personal. Mills' father inspired Beginners, while his mother inspired 20th Century Women. And it was his son, now nine, with filmmaker Miranda July, who sparked C'mon, C'mon. "Having my kid exposed me to the world in a different way, bringing out things about myself, both that I wanted and kind of love, and also things I find that I don't like and find really challenging," Mills told Fatherly last week. "Your own children sort of judo flip you into dealing with some stuff you'd never dealt with. For me to make a film, it has to have the most important stuff in my life that I can possibly think of. That tends to be people around me who I really love, but also their mysteries. So, being a dad, my kid, my kid's journey in the world, and all the kids you meet from being a dad – through school and friends and the whole world of childhood – I became very interested in."
As an actor, Phoenix can sometimes chew the scenery. Johnny requires a calmer, warmer presence and Phoenix delivers an understated, relatable, lived-in turn. He also generously looks and listens as Norman and Hoffmann bring their characters to life, complementing their performances. There's no better praise that can be offered than to note that when Phoenix, Norman and Hoffmann are together in a scene, you truly believe they're a family. The film was "very scripted," Mills notes, but he always invited his actors to "bring their full selves, their full intelligence, and instincts, and to be co-authors." Their improvisations, including those of Norman, "were in character and on story point." The Best Actor and Best Supporting Actress categories look particularly tight this year but expect Phoenix and Hoffmann to at least be in the conversation this Oscar season. And keep an eye on Norman, a young Brit with a very bright future ahead of him.
Beyond the affecting story and powerful acting, there's still more to recommend about C'mon, C'mon. Shot in black and white, the film looks stark and stunning. "I just love black and white films," Mills says. "And, to me, black and white is a crazy abstraction. You're no longer in reality. You're talking about reality, but you're not in reality. That just helps you to have more cinematic elbow room and to play with things and have a story, with a capital S. I feel like it gives you a different cerebral agreement with the audience and a different space." Mills also devotes a decent amount of screen time to kids expressing their feelings on a variety of topics. These kids and their comments are real and fit within the context of the story. And, as usual, Mills picks just the right music, which includes a score by Bryce Dessner and Aaron Dessner of The National, vocals on several of their compositions by Feist, and songs by Mozart ("Requiem in D Minor), The Primitives ("The Ostrich") and Salt-n-Pepa ("Shoop").So, c'mon, c'mon, go see – and support, and be touched by – this movie.C'mon, C'mon is in theaters now, playing in limited release. If you can't find it near you, it should soon hit Blu-ray and streaming rental. Meanwhile, here's the beautiful score.
This article was originally published on