Why 'Dino Ranch' Is More Than Just Another Dinosaur Show
Just arrived on Disney+ and perfect for your toddler's dino phase.
by Rebecca Jane Stokes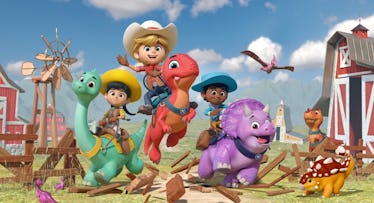 Credit: Disney
Every kid goes through phases when it comes to what sparks their interest and imagination. There's the firefighter phase, and the pony phase, the Word Party phase, and the Angelina Ballerina phase, to name but a few. One of my favorite phases happens to be the one my 3-year-old is right in the middle of dinosaur mania! Because the only thing cuter than a toddler is a toddler desperately trying to say the word Micropachycephalosaurus while the adults look on trying to keep a straight face.
So imagine my delight when I learned that Dino Ranch, the uber popular CBC, and DisneyNow! cartoon was finally coming to Disney+ on Friday, June 18th. Just in time for the hotter summer days when it can feel like your entertainment options for tots are dwindling, in comes Dino Ranch! The show centers around the Cassidy family, who own and operate, you guessed it, a dino ranch. In this world where humans and dinosaurs live side by side, some dinos need a helping hand, and the Cassidys are there to provide it.
This exclusive clip from Season 1, Episode 14 (Have You Herd) gives you a great sense of what the show is all about: creating a family of your own and finding your place in the world with a little help from your friends, of course. Watch as Jon Cassidy tries to help acclimate a new addition to the ranch – a baby stegosaurus named Rebel. Jon hopes that Rebel will find happiness with a herd of "stegos", but she defies his expectations when she bonds with the ranch's resident compsognathus flock.
It's a great clip, and not just because I die every time I hear a child shorten compsognathus to "compy". It's also representative of the themes that matter most to the show: families come in every shape and size, and making your own that looks a little different is something to be celebrated. Any cartoon programming that showcases diversity in family structures at large without making me cringe is a winner, and this goes above and beyond.
But the lessons don't stop with inclusivity. What good would a show about dinosaurs be without actually teaching your kids a little bit of something in the process? Watch as these parents go to head-to-head with their own tykes in a quiz about all things dinosaur. These parents are to be lauded for shamelessly getting the answers wrong and letting their kids take center stage. That or maybe continued exposure to Dino Ranch actually will have them spouting off facts they never taught you in school.