Who Will Host 'Jeopardy!' When Ken Jennings Leaves?
Ken Jennings is stepping down as 'Jeopardy!' host soon — and here's who will host next.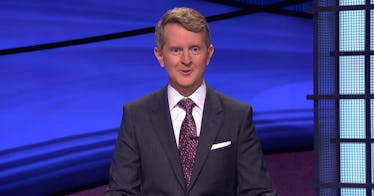 Sony Pictures
Ken Jennings was naturally the first person who hosted Jeopardy! in the wake of the death of Alex Trebek. He's done a great job in his nearly six weeks as a host and he's done more than one very fitting tribute to Trebek that has warmed our hearts.
But the appointment as Jeopardy! host was always meant to be temporary, and now, we finally know when Jennings will step down as temporary host and who is going to replace him when he gives up his day-time spot (at least for now.)
After Ken Jennings steps down on February 19th, he will be replaced as planned by the executive producer of Jeopardy! Named Mike Richards. It's not clear how long Richards will hold the position of the guest host but either way, but we know who will be next after Richards takes his leave.
Veteran reporter Katie Couric will follow Mike Richards, and it looks like the rest of the schedule will be as follows, barring any of the hosts being mixed around: after Couric, the host will be wildcard NFL Green Bay Packers quarterback Aaron Rodgers.
It's good that he didn't make it to the Superbowl, because he might be prepping for his first long-running TV appearance (outside of post-game interviews, that is.) Mayim Bialik, a star of Big Bang Theory and comedian, will host after Rodgers. Other announced guest hosts include two CNN figures — Anderson Cooper and Dr. Sajay Gupta, Savannah Guthrie, a reporter from Today, and Dr. Oz.
The guest hosts have us mostly really excited. But the best part about the new hosts is that at the end of every guest host tenure, the show will donate the total winnings of the episodes they presided over and donate the same amount to a charity of the host's choice.
Still, it looks like it could be another five or six months — or even longer — before the show announces who, if anyone, will take over the full-time mantle for Trebek. In fact, they could just do guest hosts forever until the end of time, which would still be pretty neat. But for Jennings-heads, it's definitely clear that the producers haven't made any choices yet — at least ones they want to talk about publicly.