Who Plays [Spoiler] In 'The Batman?' And What Does It Mean For 'The Batman 2'?
Yes, that is who you think it is.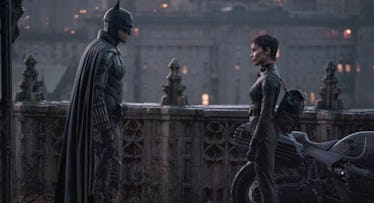 Credit: Warner Bros
At the end of The Batman, pretty much every major character who could appear in a new Batman cinematic universe is in a position to do so. All your favorite Batman toys are exactly where they need to be for several sequels with Robert Pattinson's Cape Crusader, including one extremely famous character you've probably heard of. Here's who plays this surprise character and what it might mean for the next Bat-sequel and Bat-spin-offs. Spoilers ahead for The Batman. Seriously!
Who Plays the Joker in The Batman?
After Paul Dano's Riddler is imprisoned in Arkham Asylum at the end of the movie, somebody thought it was a good idea to put him in the cell next to…the Joker! To be clear, this is not Jared Leto or Joaquin Phoenix. The new Joker in The Batman is played by Barry Keoghan. He's probably most famous for his work in Dunkirk, The Green Knight, and Eternals.
Will the new Joker appear in The Batman 2?
Right now the answer is: maybe? However, it's also possible that Keoghan's Joker will appear in a direct-to-HBO Max streaming TV series, focused on all the baddies in Arkham Asylum. Director Matt Reeves recently confirmed that in addition to a spin-off show about Colin Farrell's new Penguin, there will also be a series focused on Arkham Asylum.
Which will come first? A TV show with the Joker? Or The Batman 2? Right now, that's a riddle.
The Batman is out now in theaters.