Who Is the Greatest Movie Santa Claus of All Time?
We ranked 50 Kris Kringles. Who made the nice list and who's been naughty?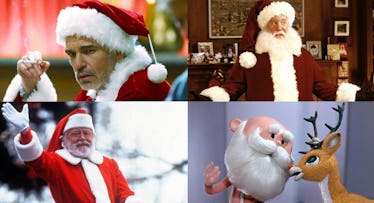 With all due respect to baby Jesus, Santa Claus is the undisputed King of Christmas. Don't believe us? Just look at how many movies are about the cookie-loving man in red. But which cinematic Santa reigns supreme above the rest? We decided to rank 50 movie Santas from the naughtiest to the nicest in order to determine which is truly the best. To be clear, this is in no way a comment on the quality of the movie. Merely a reflection of the character of Santa in the movie. From A Christmas Story to Elf, here is the definitive ranking of movie Santas.
50. Sint (2010)
Typically, Santa is a kind old man. In Sint, he is an evil, murderous ghost bishop whose sole mission is to kill as many people as possible, earning him last place on our Santa rankings.
49. Santa's Slay (2005)
Instead of bringing toys to kids around the world, this Santa, born of a virgin birth orchestrated by Satan, has an insatiable desire to murder people in increasingly grotesque ways.
48. Silent Night, Deadly Night (1984)
In this slasher, a criminal dressed as Santa kills a mom and dad right in front of their two sons. When Billy, one of the sons, grows up, he is forced to wear a Santa suit for his company Christmas party and goes on a psychotic killing spree. Yikes!
47. Rare Exports: A Christmas Tale (2010)
Another less-than-flattering depiction of Saint Nick. This time, he's a horned figure who takes delight in punishing misbehaving children. Not great.
46. Christmas Evil (1980)
Yet another psycho killer in a Santa suit. There are far too many of these.
45. A Christmas Horror Story (2015)
At first, Santa appears to be a hero bravely fighting against the evil Krampus and his zombified but a Shyamalan-esque twist reveals he's actually a mall Santa experiencing an exhaustion-induced psychotic break that has resulted in him killing a bunch of random shoppers.
44. Jingle All the Way (1996)
What's worse than one jerk-off Santa? A whole posse of jerk-off Santas. Arnold sums it up perfectly when he describes them as a "bunch of sleazy conmen in red suits." Unfortunately, the assessment earns him an ass-kicking from the gang of crooks, including a giant, shirtless Santa. Rough stuff.
43. Santa's Boot Camp (2016)
When the elves go on strike to protest the poor behavior of children, Santa decides the solution is tricking six obnoxious teens into coming to the North Pole in the hope of reforming them to win back the elves. Along with being a bad plan, isn't this kidnapping?
42. A Christmas Story (1983)
Nobody is denying that being a mall Santa is a tough gig, but kicking a kid down a slide lands this guy right on the naughty list.
41. Rudolph the Red-Nosed Reindeer (1964)
Santa rejects Rudolph because he is different and only accepts him when his nose proves to be useful. What a dick.
40. How the Grinch Stole Christmas (2000)
We only get to see the real Santa momentarily but the Grinch's imitation of Santa is just awful. Instead of giving people presents, he takes them away. That's the opposite of what Santa is supposed to do. Smh.
39. The Night Before (2015)
When Ethan (Joseph Gordon-Levitt) crosses paths with two pub-crawling Santas, he tries to stand up for Christmas. As a result, they kick his ass.
38. Friday After Next (2002)
The opening scene of the movie features a robber dressed as Santa breaking into Craig and Day Day's house on Christmas Eve, stealing all of their presents and their rent money.
37. Grumpy Cat's Worst Christmas Ever (2014)
Much like this entire movie, this Santa is better off being forgotten.
36. Gremlins (1984)
Kate's father was just trying to give his kids a perfect Christmas morning but he didn't quite stick the landing.
35. Trading Places (1983)
Dressed as Santa, Louis threatens the lives of the Duke brothers before contemplating turning the gun on himself. Certainly not the holliest or jolliest Christmas.
34. Santa With Muscles (1996)
Hulk Hogan plays a millionaire who gets amnesia while wearing a Santa suit, so when he wakes up, he is obviously convinced he is Santa. Fortunately, he is able to stop an evil scientist from taking over an orphanage to get the magic crystals hidden under the building. Yes, this is the real plot to a movie that was really made.
33. Gotta Catch Santa Claus (2008)
To convince his friends that Santa is real, a 12-year-old boy decides to capture him on Christmas. The worst part? Santa falls for it. We don't need our man in red to be a super-genius but we prefer when he's not a complete idiot.
32. Babes in Toyland (1934)
Santa is barely in this movie but he makes it clear that he does not tolerate incompetence, which is kind of Laurel and Hardy's whole jam.
31. The Search for Santa Paws (2010)
Santa gets completely overshadowed by Paws in this movie, making him little more than a perfectly adequate maker of lists.
30. Mr. St. Nick (2002)
Kelsey Grammer as a reluctant, island-loving Santa sounds like a recipe for success but, sadly, Grammer is phoning it in and never brings Fraiser-level energy to the role.
29. Santa Baby (2006)
A forgettable Santa who spends most of the movie in bed, forcing his daughter to take his place.
28. Prancer (1989)
We don't see much of Santa in the movie but he does manage to lose Prancer, implying a lack of responsibility.
27. Once Upon a Christmas (2000)
Santa, really taking his God-like role seriously, decides that kids are too naughty to receive presents and calls off Christmas, forcing his daughter to step in. Why you gotta be so heartless, Santa?!
26. Single Santa Seeking Mrs. Claus (2004)
Santa says the only way his son can become the next Santa is if he finds his Mrs. Claus. Forcing his son into marriage? Not very good parenting!
25. Elves (1989)
The elves are the villains in this movie and a store Santa only briefly appears in this movie, where the man is promptly murdered. Alas, poor Santa, we hardly knew ye.
24. The Year Without a Santa Claus (1974)
Santa feels his work is unappreciated by the masses so he decides to take a year off. This selfishness nearly ruins Christmas for countless children. Not cool, Santa.
23. Get Santa (2014)
Among the more bumbling Santas on this list, he manages to crash his sleigh and let all of his reindeer loose on the streets of London. Get it together, Santa.
22. Ernest Saves Christmas (1988)
The Santa formerly known as Seth Applegate is pretty run of the mill as far as movie Santas go. He's kind and generous but lacks any qualities that really set him apart.
21. The Story of Santa Claus (1996)
The most basic of all Santas.
20. Call Me Claus (2001)
Forgettable movie elevated by the incomparable Whoopi Goldberg, who is the Santa you never knew you always wanted.
19. Santa Claus: The Movie (1985)
Another Santa who has rightly been left in the past. This movie tries to make sense of some of the logistics of Santa but forgets to give him much of a personality.
18. Santa Who? (2000)
Santa crash lands in L.A., forgets who he is, and ends up working as Santa at a mall. Somehow, this movie is dumber than it sounds and even Leslie Nielsen can't save this from being one of the lesser Santas in movie history.
17. Santa and the Ice Cream Bunny (1972)
This is far from the best Santa, but his genuine belief in the spirit of Christmas earns him some points.
16. Polar Express (2004)
This Santa certainly knows how to command a room but he's a bit too smug for our taste. And let's not even get started with that unsettling voice.
15. Santa Claus Is Comin' to Town (1970)
Watching Kris Kringle's journey from orphan to King of Christmas is nice but there's a reason this movie isn't as beloved as Rudolph. This Santa is a little boring.
14. Fred Claus (2007)
Nick means well and genuinely wants the best for his brother but, honestly, he's a little smug and his definition of naughty and nice are flawed.
13. Santa Claus Conquers the Martians (1964)
This is a so-bad-it's-good cult classic but Father Christmas himself is a genuine hero in the film, saving two kidnapped children and helping establish a Mars Santa before heading back to Earth.
12. Elf (2003)
He deserves credit for providing Buddy the support he needs to believe in himself again, but overall he's a solid-but-unspectacular Santa.
11. Arthur Christmas (2011)
Like Batman, Santa is a title instead of an actual person in this universe. Malcolm, the current Santa, is imperfect but understands the true spirit of Christmas is about making kids around the world happy.
10. Rise of the Guardians (2012)
The highlight of this mostly-okay movie is Nicholas St. North, a badass Russian Santa who is the leader of the Guardians and has an army of elves and yetis at his command.
9. Miracle on 34th Street (1994)
It's hard to criticize Kris Kringle too much, as he manages to embody pretty much everything kids and adults love about Santa. His one flaw? He clearly has some anger issues he needs to work out, but nobody's perfect.
8. All I Want for Christmas (1991)
Another Santa (once again Leslie Nielsen) who makes effective use of his small amount of screen time, he manages to bring a family together despite only being in the movie for a single scene.
7. A Very Harold & Kumar 3D Christmas (2011)
Harold & Kumar don't get off to the best start with Santa, as Kumar accidentally shoots him in the head. But Kumar makes up for it by performing surgery and Santa is pretty chill about the whole thing, even giving them a ride back home on his sleigh.
6. A Muppets Christmas: Letters to Santa (2008)
The Muppets travel all the way to the North Pole to deliver Santa letters they found only to find he's already headed out to deliver toys. However, when Santa discovers what happens, he promptly heads back, like a true homie.
5. Bad Santa (2003)
The movie's title might suggest otherwise, but Willie T. Soke is actually a pretty solid Santa, as his cold heart is warmed by Thurman, an overweight, naive preteen.
4. Frosty the Snowman (1969)
Santa only shows up for the end of this movie but he makes the most of his limited screen time, bringing Frosty back to life and telling the villainous Hinkle to GTFO.
3. The Nightmare Before Christmas (1993)
Jack Skellington's attempt to replace "Sandy Claws" doesn't exactly go as planned, but his genuine and infectious enthusiasm for the holiday is admirable.
2. Miracle on 34th Street (1947)
Why does this Miracle Santa rank above the other? It's that megawatt smile and undeniable warmth that sets him apart. He's so damn good, he earned a good-but-not-quite-as-good remake.
1. The Santa Clause (1994)
It may take him a bit of time to get on board with the gig, but, at the end of the day, Scott Calvin is the ultimate Santa Claus. He's jolly without being corny. He embraces tradition without being stuck in the past. The job even makes him a better dad. If Santa was real, we imagine he'd be a lot like this guy.
This article was originally published on