Lupita Nyong'o Narrates Incredible New 'Peanuts' Documentary About Charles Schulz
The new doc comes to Apple TV+ at the end of June.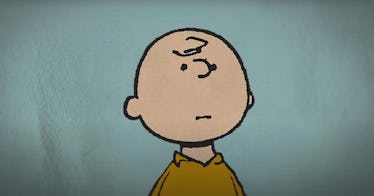 Before there was Charlie Brown, there was Charles Schulz. The legendary Schulz created Peanuts, the comic strip that introduced generations of children and adults to Charlie Brown, Lucy, Snoopy, Linus, Pigpen, Peppermint Patty, Franklin, Schroeder, Woodstock, and the rest of the gang. He and his timeless creations are about to get the documentary treatment, as Apple TV+ will premiere Who Are You, Charlie Brown? on Friday, June 25. The trailer just dropped.
Narrated by actress Lupita Nyong'o and executive produced by Oscar winners Brian Grazer and Ron Howard, Who Are You, Charlie Brown? sketches a sweet portrait of "Sparky" Schulz, who published his Peanuts strip for more than 50 years and died in 2000 at the age of 77. Over the years, Schulz revealed a great deal of himself through his characters, especially Charlie Brown, and he dared to risk alienating readers by introducing Franklin, an African American character, in 1968. The documentary also celebrates the significance and global multi-generational popularity of the Peanuts comic strip and all it inspired, from holiday specials to Thanksgiving Day Parade balloons, and from movies to every imaginable product. Among the highlights is a new animated story that follows Charlie Brown on a quest to discover himself, which is interwoven between interviews with Schulz's widow, Jean, and more than a dozen of his fellow cartoonists and celebrity fans. Those discussing Schulz include Al Roker, Drew Barrymore, Billie Jean King, Kevin Smith, Miya Cech, Paul Feig, Ira Glass, Noah Schnapp, Lynn Johnston, Keith L. Williams, Chip Kidd, and Robb Armstrong. Jeff Morrow, composer of the Apple+ series The Snoopy Show, Snoopy in Space, and Peanuts in Space: Secrets of Apollo 10, crafted the documentary's score.Who Are You, Charlie Brown? will begin streaming on Apple+ on Friday, June 25.