Where To Stream 'Mission: Impossible,' the Classic Show and the Tom Cruise Movies
This webpage will self-destruct in 5 minutes.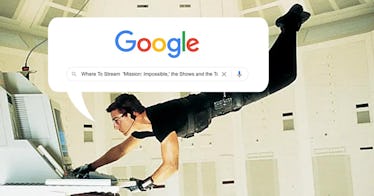 Paramount Pictures
Let's call it a Mission: Possible. Tom Cruise has been hard at work making two new Mission: Impossible movies, the seventh and eighth entries in the blockbuster film franchise that dates back to 1996. Yes, there was a dust-up over a COVID-safety rant, but we're not really here to talk about that. Instead, we're here to remind you not only where to stream all the Mission: Impossible movies, but also to remind you to check out the original TV series that started it all. Streaming the original TV shows and streaming the movies shouldn't be mutually exclusive.
Yes, the Cruise movies have some flash and are very much their own thing, but the original TV show has some charm that you may have missed. Here's everything you need to know to start your own impossible mission.
What was the Mission: Impossible TV show, anyway?
Mission: Impossible, created by Bruce Geller, debuted in 1966 on CBS. It was produced by Desilu, the company founded by Desi Arnaz and Lucille Ball. Lucy had a direct hand in green-lighting Mission: Impossible and some other little show called Star Trek. The series centered on the adventures of the Impossible Missions Force (IMF), secret agents tasked with protecting the public from all manner of threats. Mission: Impossible quickly gained a following thanks to its catchy theme (by Lao Schifrin), snappy pace, elaborate fashion, exotic locations (often just fancifully dressed studio sets), smart dialogue, Cold War plots, and character chemistry. Also, super-cool were the episode intros, with images from what was to come flashing by during the opening theme (along with the iconic burning fuse), and the makeup, with the main characters, often sporting – and then peeling off – masks that enabled them to fool the bad guys. And, of course, viewers loved the audiotapes that delivered the team's latest assignment, warned that the IMF team would be disavowed if caught, and then self-destructed, literally melting on screen.
The core characters in season one included Dan Briggs (Steven Hill), the IMF team's leader; Rollin Hand (Martin Landau), the "man of a million faces" and noted escape artist; Cinnamon Carter (Barbara Bain), an actress and model; Barnard Collier (Greg Morris), referred to as Barney, an electronics whiz; and William "Willy" Armitage (Peter Lupus), the group's tall and strong muscle. After season one of Mission: Impossible, Hill departed and Peter Graves assumed the role f Jim Phelps, the team's new boss. Landau and Bain eventually exited, while Lesley Ann Warren, Leonard Nimoy, Susan Day George, and Sam Elliott joined the show over the course of its seven-year run.
Shows don't run seven years for no reason. Mission: Impossible delivered the goods. It was entertaining and stylish, with often intricate plots. Like many series, it wasn't quite as good in its later years, as the producers sought to cut costs. Still, the show made its mark and is fun to revisit. If you want to sample M:I, several of the best episodes include "Operation Rogosh" (with guest star Fritz Weaver), "The Cardinal" (with guest star Theodore Bikel), "The Submarine" and "The Carriers," which guest stars George Takei from Star Trek and finds the IMF team racing to thwart a bacteriological attack on the U.S. Hell, Takei and Landau even wear protective masks! All seven seasons of Mission: Impossible are available now on CBS All Access; try it free for a week. (This will become Paramount+ in March.)
Years later, in 1988, ABC rebooted Mission: Impossible, with Graves back as Phelps, leading a new team. Phil Morris, the son of Greg Morris, played the son of his father's old character, and Greg Morris popped up for a cameo (as did Lynda Day George). The series was OK at best and vanished after two seasons and 35 episodes.
Where Can You Stream the Mission: Impossible Movies?
And then, of course, there's the big-screen Mission: Impossible series, all available for rental on Amazon Prime. Love him or hate him, Tom Cruise found a way to reinvent the concept. For starters, the theme song remains. The globe-trotting remains. The face-changing remains. The intrigue and often heart-stopping action remain. There's still an IMF team, with Cruise's Ethan Hunt as the key character, supported by the ever-loyal Luther Stickell (Ving Rhames, films 1-8) and Benji Dunn (Simon Pegg, films 3-8), a believable love interest (Michelle Monaghan as Hunt's ex-wife, Julia Meade, films 3, 4 and 6), great guest actors (Jon Voight as Jim Phelps in the first film, Alec Baldwin, Vanessa Redgrave, Anthony Hopkins, Angela Bassett, Jean Reno, Thandie Newton, Phillip Seymour Hoffman, Laurence Fishburne, and on and on). Cruise has also tapped the talents of diverse directors and let them do their thing. Brian De Palma's Mission: Impossible is stunningly shot (minus the awful visual effects in the helicopter-in-the-tunnel sequence), while John Woo heightens the action in Mission: Impossible 2. Christopher McQuarrie ups the ante on all fronts with each of his films, Rogue Nation (with Rebecca Ferguson great as an MI6 agent, and an awesome fight at the opera) and Fallout (with its absolutely insane HALO jump), and he's directing the upcoming two films, which are being shot back to back. As for Cruise, he's found his groove with the Hunt character, making him heroic, yet human, and a guy we want to root for. Plus, Cruise famously insists on doing his own stunts, and he puts himself through some crazy shit (read up on that HALO jump), heightening the tension and awe factor of each film.
You know a long-running film series is still pulling the right strings when the most recent installment generates its best reviews and biggest box office. Fallout elicited uniformly positive reactions from critics and audiences alike and grossed just shy of $800 million dollars worldwide upon its release in 2018. Mission: Impossible 7 and 8, will be released (Covid permitting) in 2021 and 2022, and we're stoked to accept those missions.
This article will self-destruct in five seconds.
This article was originally published on