Tom Hiddleston Charmingly Reveals How 'Loki' Will Change One Disney+ Tradition
"Wednesdays are the new Fridays."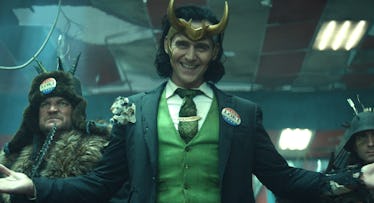 Loki (Tom Hiddleston) in Marvel Studios' LOKI exclusively on Disney+. Photo courtesy of Marvel Studios. ©Marvel Studios 2020. All Rights Reserved.
Since Disney+ first dropped in the Fall of 2019, new episodes of The Mandalorian, and then, the various Marvel shows — WandaVision and The Falcon and the Winter Soldier — have always landed on Fridays. Star Wars is even keeping that tradition going with the release schedule for its new animated series, The Bad Batch. But, the trickster god Loki is here to mess all of that up.
The new release date for Loki is no longer June 11, it's June 9. In a hilarious new video, Tom Hiddleston says "Wednesdays are the new Fridays."
So, this means that new episodes of Loki will no longer drop on Fridays, but instead, show up on Disney+ on Wednesdays. If the show holds to previous release schedules (like Mando or Wanda) this also means the episodes will really come out at like 3:00 AM EST Tuesday night.
For those who have felt like waiting until Friday is too long for these new episodes, Loki has granted your wish. For those afraid of spoilers, and who like watching the new shows over the weekend, be warned: There will now be a full week of reactions and speculations, rather than a bunch of Marvel pundits scrambling to write a bunch of things on Friday morning. The Loki watercooler conversations are gonna be longer! Get ready!
Loki will run for six episodes on Disney+. The new release date for the debut is June 9.