What Kind of Car Is Lightning McQueen?
Everyone assumes that Lightning McQueen was named for Steve McQueen, but what this blog post presupposes is...maybe he wasn't?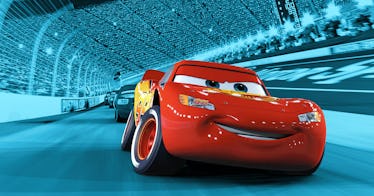 Disney
It's a question that's been – ahem, cough, cough — driving us crazy for ages: What kind of car is Lightning McQueen in Disney/Pixar's Cars universe? The sleek red anthropomorphic talking vehicle sure looks like a Corvette, but he's not, or not quite. Take a drive with Fatherly as we brake, er, break it all down. And we promise we'll stop with the automotive puns. (Actually we don't promise that.)
The goal was to create a car – albeit one with blue eyes and a sly smile – that resembled an actual stock car. The Pixar team, with Cars director John Lasseter in the driver's seat (oh good Lord, we're so sorry), joined forces with Chevrolet to model McQueen on the company's then-current Corvette model, the C6. But that didn't satisfy Lasseter, who stated, "Due to aerodynamics, the shape of NASCAR cars is relatively flat and not very interesting." As a result, Lasseter, directing animators John Ford Murphy and Bobby Podesta, production designer Bob Pauley, and others, incorporated bits of a Ford GT40 and a classic Lola. So, physically speaking, McQueen is a hybrid of cars that enthusiasts would see circling the tracks at NASCAR and Le Mans races.Personality-wise, McQueen is a cocky-but-lovable rookie who, at least initially, thinks he can win the Piston Cup without any help. Spoiler (and that's not a pun!) alert: He needs help. Anyway, Pauley revealed to AutoWeek in 2006 that he "put together a series of little bios of great personalities that were really cocky but really likable, like Muhammad Ali, Charles Barkley, Joe Namath, Kid Rock. Once they started writing the character as an Owen Wilson (voice of McQueen) character, it really accomplished that." As for Wilson's take on his animated alter-ego's temperament, he explained in a 2007 interview with Artisan News Service, "It's kind of like, I guess, Maverick in Top Gun. (He's) somebody that just wants to go fast and has to win. And, over the course of this movie, he has to learn that there are more important things."Finally, there's the car's name. Most people assume McQueen was named after Steve McQueen, the car-loving, iconic star of Bullitt, Le Mans, and The Getaway. That wasn't the case. McQueen was actually a tribute to Pixar animator Glenn McQueen, who was only 41 when he succumbed to melanoma in 2002. He'd helped create Woody in Toy Story and Boo in Monsters, Inc., and was working on Finding Nemo at the time of his death.
So there you have it, Lighting McQueen is not really named or modeled after a specific car, but he could represent several different types of cars at the same time. Ka-Chow!!
You can stream all the Cars movies on Disney+ right here.
This article was originally published on