How to Make Your Own, Modern DIY 'Mister Rogers'
There is no one new version of Fred Rogers today. Which is why you have to make your own. Here's how.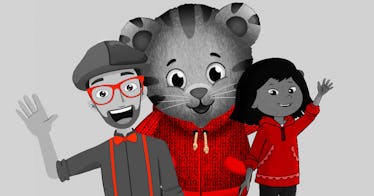 One of the truths of being a parent of small children in the 21st century is you're constantly looking for the touchstones for what you loved as a child. For many of us, that obviously means Mister Rogers' Neighborhood. But, other than just having your kids watch reruns of the best episodes, or singing all the most beloved songs, how can you construct a 21st-century version of what Fred Rogers wanted children's entertainment to be?
The reality is, the landscape of kids' entertainment in 2019 is a far cry from what Rogers would have wanted. That's not necessarily an inditement of quality of kids' shows, it's more of a comment on how much media has changed. You can't just "turn on" PBS and hope for the best anymore. The reality of streaming media has changed the game, and that means kids' entertainment is not only different in content, the way we watch it has changed the content. But, that doesn't mean you can't cobble together your own bespoke 21st century Fred Rogers. Here's how. We're not saying Fred would approve of all of this, but the net result is close.
To be clear, we are not going to talk about Sesame Street here. You know what Sesame Street is, and it's got its own 21st-century problems. Save for two very obvious exceptions, we're also not going to talk about most animated cartoons. Mister Rogers' Neighbor wasn't a cartoon. That wasn't the point. There are way too many animated kids' shows to really even absorb. So, with that in mind, here's how to get closest to the spirit of Mister Rogers with three contemporary live-action shows, and two animated ones.
Blippi
Let's just get this out of the way: Blippi is controversial because in his previous career as a "comedian" he did some stupid stuff. These days, Blippi sometimes uses an impersonator in live shows because of this weird outcry, but that's kind of all besides the point. As a kids' YouTube entertainer, Blippi is kind of like a goofy Mister Rogers. Like, if you were to mash-up Fred Rogers with a Portlandia sketch, it would be Blippi. But, just like Rogers, Blippi's segments often feature educational visits to zoos, museums and more. He's Mister Rogers on cocaine and wearing a bow tie and suspenders, okay? But, is the net result of this YouTub series bad. Nope.
The Wiggles
The Wiggles have been around for a while, and they are decidedly not as cool as Fred Rogers. But, regardless of which incarnation of the Wiggles you encounter, one thing is very clear: Their hearts are in the right place. The songs can be grating, but like Mister Rogers, the intent here is to be comfort food for kids. The Wiggles are like Mister Rogers, but with like fluorescent colors. (Both inside and out.)
In the Night Garden
This one comes from Andrew Davenport, who is the same guy who created Teletubbies. For some parents, that particular credit might be a deal-breaker, but it shouldn't be. In the Night Garden is more down-to-Earth than Teletubbies and in terms of kindness, it has the same gentleness as Mister Rogers. Essentially, when you're constructing your own DIY Fred Rogers, that's the key, gentleness that doesn't come in the form of a pre-constructed brand. In the Night Garden has the same goofy uniqueness of the puppets in the original Mister Rogers' Neighborhood, too.
Molly of Denali
The newest PBS animated series is one of two cartoons on this list, and that's because it's excellent. Set in Alaska, Molly of Denali presents a different kind of American neighborhood; one that is focused on the experience of native peoples. But, it's also a show about children and their feelings. And for that reason, it is very much what Fred Rogers would have loved.
Daniel Tiger's Neighborhood
And here you go; the heir to the magical kingdom of Fred Rogers! Created by Fred Rogers Productions for PBS, Daniel Tiger's Neighborhood is basically Mister Rogers: The Next Generation. These things are superficially obvious: Daniel Tiger removes his shoes and talks about feelings in the same way Fred did in the original show. In fact, the entire show is basically about the puppets from the old show, only come to life, and with complete families and more friends.
But Daniel Tiger carries the Fred Rogers torch in a way that is less superficial. Of all the things on this list, it is clearly the most thoughtful. The team behind the show spends a lot of time crafting everything from the songs to lessons contained within each show. Famously, Mister Rogers didn't shy away from difficult subjects, and Daniel Tiger doesn't either. It's a gentle show, to be sure. But it's also an unflinching one. And that quality makes it your best bet as a proxy Fred Rogers in the unwieldy world of 21st Century kids TV. When Daniel Tiger sings "It's a beautiful day in the neighborhood," thankfully, we believe him.