What Is Chaos Magic? 'WandaVision' Episode 8, Explained
Confused? Hang on. We've got you.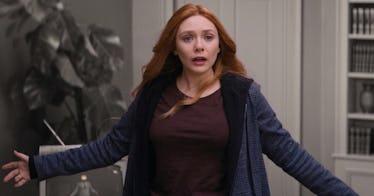 Credit: Marvel
Everyone knows that Wanda Maximoff has magical powers, but what are her powers, exactly? In episode 8 of WandaVision, "Previously On," we actually are outright told what variety of powers she has. Is it a spoiler? Well, only if you haven't been following Marvel comics since the dawn of time. So, if you haven't seen episode 8 of WandaVision, stop reading right now. Spoilers!
So, if you were the kind of person that thought the Infinity Stones were a little silly, and that the magic and spell-casting of Doctor Strange was a bit too Harry Potter for Marvel, prepare to have the wizards and witches take over! Not only has WandaVision established that Agatha Harkness is a centuries-old witch, who was almost burned-at-the-stake by other witches, but it's also now established that Wanda's powers don't actually come from any kind of experimentation that happened while she was with Hydra. Apparently, like the Force, Wanda's powers come from within.
At the very end of the episode, Agatha says, "this is Chaos Magic..and you are the Scarlett Witch!" The name, of course, refers to Wanda's superhero name in Marvel comics, a name that was previously disallowed in the Marvel movies because of complicated legal reasons. However, now that the X-Men lore and the Avengers stuff are moving closer together thanks to the Fox and Disney merger, it appears that WandaVision's secret goal all along is to give Wanda her proper Scarlet Witch moniker and reboot her origin story at the same time.
What is Chaos Magic, though?
In real life, Chaos Magic is a 1970s "belief" that combines old-school occultism with groovy post-modern applications of what magic "does." Obviously, actual magic is fake, but don't tell that to people who have been shopping in the "New Age" section of bookstores since the 1980s. The point is, the concept of Chaos Magic was popular around the time that Wanda's powers were getting fleshed-out in the comics, specifically around the 1979 run of The Avengers.
To put it simply, Chaos Magic is an ancient magic that was locked away by an "Edler God." It's like some hardcore Aslan "deeper-magic-from-before-the-dawn-of-time" stuff. According to one Marvel wiki, Wanda was exposed to this magic as a tiny baby: "The newborn Wanda would be touched by the hand of the degenerate Elder God Chthon, which would leave her with a fraction of his power that would let her control Chaos Energy and alter reality itself beyond recognition."
Is Agatha suddenly Wanda's new Obi-Wan Kenobi?
Agatha Harkness seems like a terrible person, and yet, in the comics, there's precedent for her training Wanda to harness Chaos Magic. In Episode 8 of WandaVision, she even gives Wanda her name, "the Scarlet Witch." So, now, it feels like the next steps for Wanda are to "become" whatever that might mean. Too bad we've only got one episode of WandaVision to see what that even means.
Luckily, Elizabeth Olsen is filming Doctor Strange 2, right now, which really should be subtitled "How Scarlet Witch Got Her Groove Back," don't you think?
The season finale of WandaVision airs next Friday, March 5, 2021. A second season is not expected.
This article was originally published on