The 6 Most Ridiculous Retro After School Specials, Ever
Looking back at a time when parents were worried about caffeine pills and punk rock.
by Rebecca Jane Stokes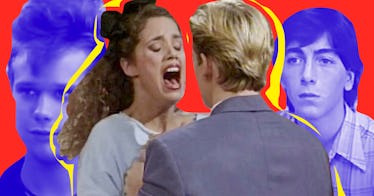 ABC / NBC
While the words "after school special" are commonplace enough, it's possible you may not know their origins.
In the early 1970s to the late 199s, ABC released a series of movies, called The Afterschool Specials. These films were meant to instruct kids and teens about so-called modern dangers like drugs use. These specials were designed from network TV and if you remember them, you probably remember cracking jokes about them. The fact is, the most famous after school specials didn't always land with the earnestness the network intended. Hokey, awkward, and sometimes downright weird, after school specials wanted to change lives, and they did…but probably not in the way the creators wanted.
In fairness, because there were so many After School Specials between 1972 and 1997, there's obviously good, well-meaning stuff in there. But, the absurd, over-the-top moments are what we remember. So, let's look at the most ridiculous after school specials ever made, with bonus appearance from a "very special episode" of one of your favorite '90s shows.
6. Stoned
5. Daddy Can't Read
4. High School Narc
21 Jump Street
3. Desperate Lives
Breaking Bad
2. The Day My Kid Went Punk
Mr. Show
1. Saved by the Bell; "Jessie's Song"
Saved By the Bell,Saved By the BellElizabeth BerkelToday Show
Saved By the BellSaved By the Bell is streaming for free on Peacock.