Weird Al's Bizarre Lost Album Was His Take On a Dark Children's Classic
Calling a Weird Al album "weird" is kind of dumb. And yet...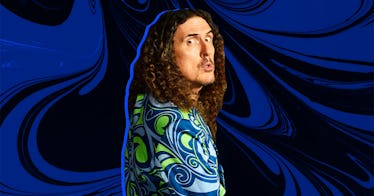 Getty
"Weird Al" Yankovic has not released an album in six long years, since 2014's Mandatory Fun became his first album to debut at number one in the pop parodist's long, extraordinary, unlikely career. That's a veritable eternity for an artist for whom timeliness has always been of the utmost importance. Yet rather than becoming less popular and relevant, the Weird One has only grown more beloved and respected as he ages gracefully yet wackily into the role of a revered geek elder statesman.
In 2020 alone Al is the subject of three very different books: longtime drummer and right-hand man Jon "Bermuda" Schwartz's fascinating, revelatory coffee table book Black & White & Weird All Over, a collection of photos from Al and his band's early years that finds the quiet humanity and vulnerability behind all the zaniness, Lily Hirsch's Weird Al: Seriously, a highbrow, academic exploration of Al's work and my own Weird Accordion to Al: The Ridiculously Self-Indulgent, Ill-Advised Vanity Edition, a 500-page celebration of Al's complete discography as well as his work in TV, film and the live stage that has its roots in 2012's Weird Al: The Book, a coffee table book I wrote with and about Al. Even more impressively, Al recently received our culture's highest, most prestigious honor in the form of his own Chia Pet. We can all agree that Chia-status is a little more legitimate than a spot in the phony-baloney Rock and Roll Hall of Fame.
While Al's new output has slowed to a relative trickle, his catalog, rooted as it is in the biggest, most important artists in rock history, and some of our most popular and enduring movies and TV shows, remains an endless source of fascination and delight, particularly for children who have always been Al's most pathologically obsessive fans.
Every day some new geek discovers "Amish Paradise" or "Yoda" or "The Saga Begins" or "White & Nerdy" on Youtube and suddenly has a new all-time favorite artist. Youtube suits Al as perfectly as MTV did back in the day, because he's such a visual artist but also because he's released so much content through the decades, from ancient AL-TV clips from his beloved MTV specials to official music videos to fan tributes.
Al's glorious back catalog is just waiting to be discovered and appreciated with one very notable exception. Though it sometimes shows up on Youtube the same way pretty much everything in the known universe shows up on the popular streaming site, legally or otherwise (in this case that would be otherwise) Peter & The Wolf, Al's 1988 collaborative album with electronic music pioneer and groundbreaking trans icon Wendy Carlos (who is the subject of a new book as well in Wendy Carlos: The Biography) is nearly impossible to track down legally for a meeting of two such auspicious minds.
Carlos helped popularize the Moog synthesizer with wildly influential albums like Switched-On Bach (which topped the Billboard classical charts for a period of years rather than weeks or months) before providing the icy electronic scores to Stanley Kubrick's A Clockwork Orange and The Shining.
Peter & the Wolf was the only album in Al's career that did not make it onto his epic, 15-disc 2017 box set Squeeze Box, which won a Grammy for Best Boxed or Special Limited Edition Package, beating out lame pretenders like Guns n' Roses and Grateful Dead for the distinction.
Al and Wendy Carlos' extended goof on Sergei Prokofiev and Camille Saint-Saëns (slightly more highbrow satirical targets than El DeBarge or Tiffany, who he was also spoofing around this time) isn't available on Spotify or iTunes or Amazon or Apple music and it went out of print long ago in every medium. Copies of Peter & the Wolf on CD, cassette, and vinyl fetch small fortunes on eBay.
What Carlos charmingly referred to as a "gentle leg-pulling satire of Peter And The Wolf" in her liner notes for the album is unique in Al's career in other ways as well. It's the only album Al has made without his trusty longtime backing band (Jim West on guitar, Steve Jay on bass, drummer Jon "Bermuda" Schwartz and later keyboardist Rubén Valtierra). It's the only album Al made for CBS. It's the only album that finds Al reciting humorous verse rather than singing and it's his first and, to date, sole foray into the high falutin' world of classical music.
Peter & the Wolf also has the distinction of being the first album Al produced himself rather than guitar god Rick Derringer. It hit stores in between the release of Al's classic 1985 video mockumentary The Compleat Al and his beloved 1989 cult writing and starring cinematic debut UHF, so long-form storytelling was very much on his mind.
By the time Al and Wendy got around to giving the business to Peter & the Wolf, they'd been beaten to it by just about everyone else. As is often the case, the Disney animated version is considered definitive but David Bowie's take is also appropriately revered. Sesame Street even adapted the classic and classical tale as Elmo's Musical Adventure, with Elmo in the role of Peter. Al's hero Allan Sherman parodied Prokofiev's classic tale of Soviet heroism as Peter and the Commissar, a wild rumpus of a hip, happening, right-on satire.
Peter & the Wolf was designed to educate as well as entertain. So there's something wonderfully perverse about Al and Wendy teaching children about the sound and character of different instruments through an unfathomably complicated computer/synthesizer/one-woman orchestra rather than conventional instruments made of wood and steel and strings rather than zeroes and ones and code.
This is one of Al's most meta outings and he is a particularly meta fella: his wisenheimer take on a kiddie classic is as much about the telling of this oft-told tale as it is about the tale itself.
For example, after Al explains that the roles of various animal and human characters will be played by synthesized versions of instruments except for the grandpa, who will be played by Don Ameche, he learns that the Oscar-winner couldn't make it and was being replaced by a bassoon.
Peter & the Wolf was designed to both teach children about classical music and extol the virtues of the Soviet character but Al transforms it into an unmistakably American, contemporary bit of foolishness, silly and smart in equal measure.
In Al's anarchic re-telling, Peter is a gleeful Poindexter who ends up capturing the wolf terrorizing his village through the skillful use of dental floss and the eponymous wolf wears tennis shoes and talks in the steely rasp of Clint Eastwood's Dirty Harry, whose catch-phrases he borrows along with his voice and tough-guy persona.
Al's narration and Wendy's musical accompaniment are full of pop-culture references and gleeful parody. When a duck is menaced and then eaten by the wolf, Wendy's wonderfully expressive synthesizer conjures up Bernard Herrman's iconic strings from Psycho to give a sense of the poor creature's impending doom.
Al gleefully plays up the brutality and violence of the original story. In a particularly bleak passage, Prokofiev explicitly states that the vicious wolf at the center of the story ate a duck character in one gulp, while it was still very much alive. Al doubles down on this gruesome imagery by further specifying that this "means the gastric juices slowly dissolved (the duck's) body and he died a long, painful death."
In Al and Wendy's spoof, the hunters who assist Peter are NRA gun nuts firing magnums, Uzis and bazookas and poor Bruce the Duck, after dying that horrible, involved, endlessly protracted death, ends up getting reincarnated as Shirley MacLaine, a reference liable to go over children's heads at the time as well as today.
Al is interested in amusing himself as well as his audience of children as he scribbles happily in the margins, filling this goofy tale with nifty little details and sly inside jokes. Carlos' music follows suit. She's clearly having a blast, overjoyed at having an opportunity to unleash her inner goofball.
The same is true of her work on the other half of the album. It's an extended riff on Camille Saint-Saëns' "The Carnival of the Animals" that finds Al replacing Ogden Nash's legendary prose from the original with new verses chronicling lesser animals Saint-Saens never got around to commemorating in song.
Al and Wendy's contributions are segregated neatly: Al will deliver succinct rhyming verses about creatures big, small and imaginary, and then Carlos captures the essence of the animal Al is commemorating in verse with her magical fingers, like a surrealistic nightmare of a poodle thankfully unlike any in our world.
As a collection of tiny little poems about animals, "The Carnival of the Animals Part II" is less essential than Peter & the Wolf but together and separately, "Peter & the Wolf" and "The Carnival of Animals Part II" stand as powerful rebukes to the conventional wisdom that classical music is ponderous and adult, humorless and dreary, something to be endured rather than enjoyed.
Despite its pervasive morbidity and slapstick audio violence, Peter & the Wolf was nominated for a Best Children's Recording Grammy (one of sixteen nominations for the five-time winner), where it squared off against not one but two separate Meryl Streep projects and ended up losing to Robin Williams' Pecos Bill. And then it just sort of disappeared after it went out of print, in sharp contrast to Al's other albums.
Al doesn't seem to have anything in the works, album-wise, currently, but a great way to continue to keep him and his catalog in the public eye in lieu of new material would be deluxe re-releases of his old albums. A re-release of Peter & the Wolf would be a wonderful, if not particularly commercial, place to begin.