This Surprising Smash Disney Hit Is Overtaking 'Let It Go'
The new earworm is still in the honeymoon phase, so check on us in a few months.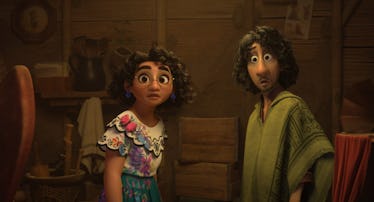 Disney
There's a new earworm in town courtesy of another Disney movie. It's infiltrated the homes of parents everywhere, usurping the previous earworm that felt like it would never die. Encanto's hit song, "We Don't Talk About Bruno," smashed past Frozen's "Let It Go" and broke records in the short few weeks the movie has been out.
According to UPROXX, "We Don't Talk About Bruno," scored by the mega-talented Lin-Manuel Miranda, climbed to the top five on the Billboard charts recently. Encanto, released at the end of November, is the first Disney soundtrack to hit the top of the Billboard list since "Let It Go" from Frozen, which came out in 2014.
It's way easier to watch a movie on repeat when the songs are catchy and not irritating. And that's probably why Encanto is getting so much love right now. The storyline is magical, but the songs are something special, and "We Don't Talk About Bruno" has been stuck in all of our heads since we started streaming the movie on Disney+.
"We Don't Talk About Bruno" is now sitting at number four on the Billboard list, which means it's overtaken "Let It Go," and parents are thrilled. We're tired of our kids belting out "Let It Go" for the past eight years – we're more than ready to let that one go. It's so overplayed it physically hurts when we have to choose between playing that song or listening to our toddler cry until we do.
"We Don't Talk About Bruno" has everything that makes a classic earworm. The lyrics are hilarious, and repetition makes it easy to memorize. There are fun runs and a section where we can belt out the lyrics with everything we have. Of course, it has everything "Let It Go" has or "Colors of the Wind" from Pocahontas, the previous running Disney song before Frozen came out.
We're thankful for the surprise smash hit. But it's important to keep in mind that "We Don't Talk About Bruno" is still in the earworm honeymoon phase. So chances are, if you ask us in eight years how we feel about the song, it will result in the same reaction we have now to the Frozen hit.
For now, though, we're going to be singing "We Don't Talk About Bruno" every chance we get. And will be thankful that our kids have finally let Frozen go.