Watch This Exclusive Clip from 'TrollsTopia' Season 2 on Peacock and Hulu
The 'Trolls' are back and ready to play.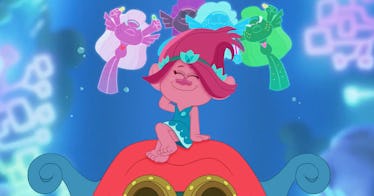 DreamWorks/NBC via YouTube
Season 1 of Trolls: TrollsTopia! was a non-stop fun ride for the whole family. And ever since the first season ended, in which Poppy forms a new Trolls City where Trolls from the Country Western, Classical, Funk, Techno, and Hard Rock tribes all come to live in harmony (and make some very interesting music) parents have been wondering when the next batch of great 'Trolls!' songs (and new adventures) would come about.
Well, thanks to a new exclusive clip from Dreamworks Animation ahead of the premiere of Trolls: TrollStopia! Season 2, which premieres exclusively on Hulu and Peacock on March 18th, we can all get a good idea of what shenanigans, exactly, the folks from the new Trolls city, TrollsTopia, will get into. It looks like one of the first adventures will actually be quite dangerous — in the form of a runaway train (obviously accompanied by a song, technicolor animation, and danger that no one in the village seems to notice… until the very end of the clip.)
Watch the brakes break and the beats drop in this funny clip.
Get ready to watch season 2 of Trolls: TrollsTopia! on Hulu and Peacock on March 18th.
This article was originally published on