The Wiggles Rocked Out With Tame Impala and We're Not Mad About It
Didn't see that one coming, did you?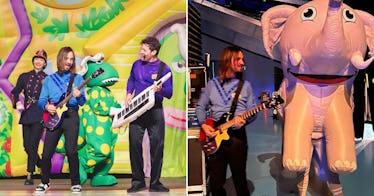 Instagram / TheWiggles
Say what you want about The Wiggles, they've been around for as long as they have been because they they're good at what they do. Their songs are earworms that we find ourselves singing long after the kids have gone to bed. While they have a whole slew of original songs, their cover of Tame Impala's Elephant was a good one – a fun treat for the parents. But even with that, we didn't expect to see them perform together?!
Recently The Wiggles were guests on Triple J's Like a Version cover series, a radio show in Australia. The cover series has a musician or band join the radio station to play one of their own songs and a cover song that they love. The Wiggles – including Emma, Anthony, Simon, Lachy, Murray, and Jeff – chose play "Elephant" by Tame Impala, and they did a good job.
According to Pitchfork, Tame Impala's Kevin Parker surprised everyone by joining The Wiggles on stage during one of their live shows in Perth, Australia. There, he, and The Wiggles performed The Wiggles' version of "Elephant," and infused it with their popular song "Fruit Salad."
In a statement, Kevin said, "When the opportunity presented itself to perform live with The Wiggles—how could I resist? That was one of the most enjoyable things I've done!" That's that's really fun that he was able to do something a little different than what he normally does. But we're still in a little bit of shock that he agreed to do it – and that it was entertaining to watch.
"We were so happy to have Kevin Parker on stage with us in a very special musical moment!" Anthony Field, the Blue Wiggle, said. "We are so grateful to Tame Impala for the song 'Elephant' and then to have him perform 'Hot Potato' with us also—it was a real pinch-me moment!"
It's a combination we didn't think we'd see. But we're not mad either. And maybe now it's cool to say we like The Wiggles?
"Elephant" comes from Tame Impala's 2012 album Lonerism, which is hard, but not impossible to find on vinyl.
If you're itching for a near-perfect Tame Impala album on vinyl that's slightly more affordable than Lonerism and you somehow don't have their 2015 LP Currents, you kind of need it. Now. Protip: If you want your kids to be interested in this album, tell them it's called "Marble in Rainbowland." Trust me.