Watch the 5 Best Moments of Jason Sudeikis Hosting 'SNL'
Jason Sudeikis brought the dad humor real hard to 'Saturday Night Live.'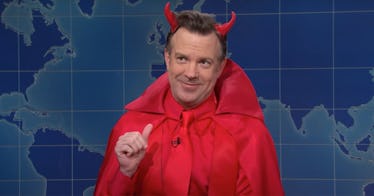 Mercifully, when Jason Sudeikis hosted Saturday Night Live for its 2021 Halloween episode, there wasn't a Ted Lasso sketch. Seemingly, Sudeikis — a former SNL veteran himself — and the rest of the creative folks decided that Ted Lasso was funny enough on its own to not be made fun of in SNL. And, other than a very Lasso-esque upbeat opening monologue, Sudeikis returned to his roots about being funny about other stuff, most of it perfectly dark, and reminded us that he's excellent at skewering men and masculine dude stuff.
Here are the five essential moments from the 2021 episode of Jason Sudeikis hosting SNL, which he says will be the first and "only" time he'll host the show. Was he kidding?
The upbeat opening monologue
Although Sudeikis' opening monologue wasn't hilarious, it was endlessly sweet. Sudeikis spoke about the history of Saturday Night Live and the way it inspired him not just as an actor, but as a child. If you like SNL even a little bit, you couldn't help but be inspired by this speech. (And be reminded of that fictional soccer coach we all love.)
What's up with that? (Featuring Oscar Isaac)
In another super random installment of Kenan Thompson's fake game show "What's Up With That," Jason Sudeikis didn't feature that much but did sport hilarious cameos from Fred Armisen, Oscar Isaac, Emily Ratajkowski, and Nicholas Braun. Lots of uncomfortable Succession jokes, and a kind of sarcastic version of Isaac talking about his acting choices, which hilariously dovetailed some stuff he told Fatherly recently.
The Devil on Weekend Update
It's been a rough 19 months, and the Devil (Jason Sudeikis) is here to take credit for all of it. From BitCoin to making sure Colin Jost was able to marry Scarlett Johansson, Satan is taking credit for all of it. Just don't try to pin QAnon on him!
Men's Underwear
One of the best fake SNL commercials in recent memory, this one imagines an alternate dimension of men's underwear which resits those embarrassing skid marks and…accidents. Perfect. Shamefully, we've all been there, and all thought like this.
Mellen
What's the dude-version of Ellen? What if Ellen DeGeneres was a man? This brilliant Jason Sudeikis creation feels like an instant SNL classic. The more Mellen keeps explaining what his show is like, the better it gets. From nut-tapping to unhinged guests, and towel-snapping games, the world of Mellen is oddly a place we all could visit for a second. We just wouldn't want to live there.