Several Big 2022 Movies — Including 'The Flash' — Are Now Coming Out in 2023
Well, at least we get one with an earlier release.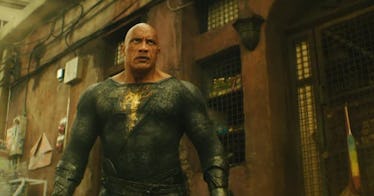 Warner Bros.
This year was gearing up to be pretty incredible for movie releases. After a challenging past two years for movie studios who had to navigate the pandemic, with the ability to hit the theaters being safer this year, we were expecting to see some pretty huge blockbusters. Unfortunately, several big 2022 movies are now being postponed.
According to IndieWire, several Warner Bros. movies, including some in the DC Universe, are having the release dates pushed back. Back in March 2021, the company announced its 2022 release date calendar would return to theatrical release models. However, several are being pushed back by a few months, without a reason given.
Here's what you need to know about the 5 movies whose dates are being pushed back.
1. Black Adam
Originally set to premier on July 29, 2022, will now be delayed until October 21, 2022.
2. DC League of Super-Pets
The animated movie was originally set to release on May 20, 2022, but it's not being delayed until July 29.
3. Aquaman 2
The sequel of this DC movie was originally set to premiere on December 16, 2022, but it's been pushed to March 17, 2022.
4. The Flash
This DC movie was originally slated to release on November 4, 2022, but it's now pushed to June 23, 2023.
5. Wonka
Another Warner Bros. movie that's not part of the DC Universe but still one people are looking forward to is the remake of Wonka. It was originally releasing on March 17, 2023, but it's now hitting theaters later that year on December 15, 2023.
One small piece of good news to come out of the Warner Bros., scheduling shuffle is Shazam! Fury of the Gods is getting an earlier release date. It was originally set to release mid-2023 but will now hit theaters on December 16, 2022.
This article was originally published on