'WandaVision' Runtime: Last 3 Episodes Could Be an Hour Each
The end of the season might feel like a movie.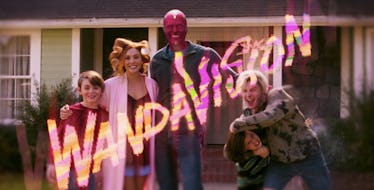 Credit: Marvel
So far, WandaVision has stuck to its kooky sitcom premise in one specific way: most of the episodes aren't longer than 40 minutes, and most clock-in around 30 minutes. While this isn't anything new for Disney+ shows (many Mandalorian episodes are only 30 minutes or so) it is possible that the last three episodes of WandaVision could each be an hour long. Here's why.
Recently a rumor exploded online that Marvel boss Kevin Feige said that the total running time of WandaVision was six hours. This was debunked by Inverse because it turns out Kevin Feige never said that. However, WandaVision director Matt Shakman did tell Collider that the entire running time of the series will be six hours.
So, why does that mean the final three episodes will be an hour each? Well, because the average runtime of each WandaVision episode so far has been 30 minutes, and we've had six episodes, that means the show's total runtime has only been three hours. (Inverse points out that this also means you can't count the credits in the runtime of the episodes, which makes sense.)
If Matt Shankman was telling the truth about the total running time of WandaVision Season 1, then yes, that implies that episodes 7, 8, and 9 could each be an hour long.
Or, it could mean that episodes 7 and 8, are each 30 minutes, and episode 9 is two hours long. Or a few of these are 45 minutes long. You get it. If we're gonna hit the six-hour mark by the end of our time in Westview, that means you should expect some of the final episodes to be a little bit longer.
Here's when every WandaVision episode will drop on Disney+.