'WandaVision' Release Date: Here's When Every Episode Will Hit Disney+
The first big Marvel TV series will start with TWO episodes. Here's what happens after that.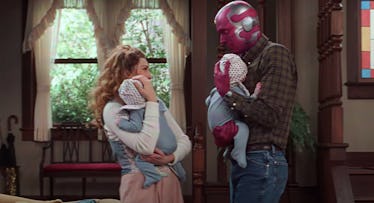 Credit: Marvel/Disney+
The suburban-sitcom-meets-mysterious-superhero-TV-show WandaVision is poised to become everyone's early 2021 obsession. Here at Fatherly, we've seen the first few episodes, and we've chatted with series stars Paul Bettany and Elizabeth Olsen and we're still not sure what's going on. But, we do know one thing, we love this show! But when it is on? How do you watch it? How many episodes are there of WandaVision? Here are the details.
WandaVision has beloved superheroics of Marvel blended with a fairly obvious down-to-Earth feeling. We might not be able to relate to being an android accidentally created by Ultron, Tony Stark, and the Mind Stone, but we do know what it's like to feel like we're living in our own personal sitcom. WandaVision is totally the show we're into right now, and we're already afraid it's going to be over too quickly.
There will be nine episodes in total of WandaVision Season 1, according to most reports. The first few episodes of the show are roughly 30-minutes long, but Marvel boss Kevin Feige recently said that we can expect several episodes "to be much longer."
New WandaVision episodes will drop on Friday mornings on Disney+, just like The Mandalorian. However, TWO episodes will kick off the show on January 15, 2021. Here's how that shakes out.
January 15: Episodes 1 and 2
January 22: Episode 3
January 29: Episode 4
February 5: Episode 5
February 12: Episode 6
February 19: Episode 7
February 26: Episode 8
March 5: Episode 9- the WandaVision Season 1 finale.
Feige also said that viewers can expect each episode to feature cliffhangers, much like both seasons of The Mandalorian.
We're going to be careful with spoilers at Fatherly, and we'll do our best to warn you ahead of time!