'WandaVision' Will End This Year — Season 2 Will Basically Be 'Doctor Strange 2'
The story will continue, just not like this.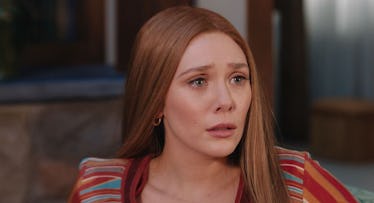 Credit: Marvel
After the ninth episode of WandaVision airs on Disney+, the series will be over. As of right now, Disney and Marvel have no plans for WandaVision Season 2, but that doesn't mean there's not a sequel. At least not yet.
According to Deadline and other outlets, Marvel boss Kevin Fiege said that "Lizzie Olsen will go from WandaVision to the Doctor Strange film." That film is the upcoming movie Doctor Strange in the Multiverse of Madness, directed by Sam Raimi, famous for directing the Spider-Man films in the early aughts. Based on the title alone, it seems likely that this Doctor Strange movie will feature a ton of crossovers from not only other Marvel shows and movies but also, other dimensions. Many Marvel fans think that Benedict Cumberbatch's Doctor Strange will actually appear in the finale of WandaVision to facilitate this crossover. And, of course, in Spider-Man: Far From Home, J. Jonah Jameson, as played by J.K. Simmons, returned from the Raimi-Spiderverse movies, somehow.
So, if you thought Marvel was taking a break from complex crossovers in Endgame, they're actually just getting started. But, this also means that WandaVision was seemingly designed to be a kind of origin story for other new projects in the larger Marvel plan. The story itself isn't exactly open-ended unless the format took a very different turn in a hypothetical Season 2.
"I've been at Marvel too long to say a definite 'No' to anything as far as a second season of WandaVision," Kevin Fiege said. He also explained that the crossover stories in the MCU tend to determine the formats. "Sometimes it [a Marvel TV show] will go into a season 2, sometimes it will go into a feature and back into a series."
So, unlike other TV shows, the thought of WandaVision not getting renewed of The Falcon and the Winter Solider only running one season isn't exactly bad news. It just might all be part of the larger plan.
The last two episodes of WandaVision air on Disney+ over the next two Fridays. Here's when those drop.