'WandaVision' Episode 5: Get Ready For a Dark Family Drama
Okay. Wanda and Vision are parents. Now what?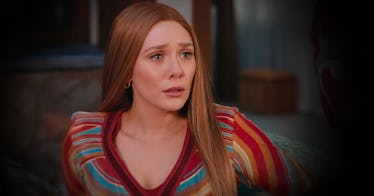 Marvel/Disney+
Other than Iron Man being a pretty good dad in Avengers: Endgame, the Marvel Cinematic Universe doesn't feature that many stories about parents. Yes, Captain Marvel's dad is fly, Thor has a weird relationship with his parents, Ant-Man is trying his best (even though he's a criminal) and Hawkeye is, well, you know, a murderer with an archery obsession. So, when it comes to hours spent thinking about superheroes as parents, right now WandaVision is really, the first Marvel thing ever, to make so-called "family life" one of the central themes. And, with Episode 5 and beyond, it doesn't look like that is going to stop. If anything, the dark-meditation of family drama is only going to get rowdier. Possible spoilers ahead!
Some folks over on Reddit think they have figured out that the next two episodes of WandaVision – Episode 5 and Episode 6 — are 100 percent focused on Wanda and Vision's kids growing up and Wanda getting reunited with a long-lost relative. (There's a fairly short list of who that relative could be, so you can kind of think about that on your own, or read this, or this.)
The larger point though is that the twins – born in Episode 3 — aren't simply going to go away, these kids seemingly are going to grow up and become part of the larger narrative. In movies like The Incredibles or Superman Returns, the notion of super-kids, and what to do with them is treated with a fairly light touch. But, if you think about it with the exception of the rare sci-fi series like Netflix's Raising Dion, there aren't a ton of superhero shows or movies for mainstream audiences that take the idea of super-babies or super-kids all that seriously. Yes these stories are out there, but because Marvel is tackling this, on a huge show that is on Disney+, it feels more front-and-center.
Now whether or not Wanda and Vision face complicated parenting decisions throughout the show remains to be seen. The Disney+ track record on this is a little iffy. In Season 1 of The Mandalorian, the show REALLY seemed to be about a working parent trying to take care of an infant. But, in Season 2, it mostly felt like the Mandalorian was just looking for some decent childcare or an adoption agency, and in the Season 2 finale, when Luke Skywalker crashed the party, Mando got his wish.
So, how will WandaVision deal with this? Are Wanda and Vision's kids "real?" And if they're not, how do we feel about it? Like everything with WandaVision, the series is pretty much vague on purpose, but for now, it seems that the larger emotional stakes are very much about their family. For Marvel, this simple fact is refreshingly, and oddly, new.
WandaVision Episode 5 hits Disney+ on Friday, February 5. The episode will start streaming at 3:00 AM EST on "Thursday" evening.