'WandaVision' Episode 4 Trailer Just Revealed a Big Marvel Character Comeback
Well, two returning characters, in fact!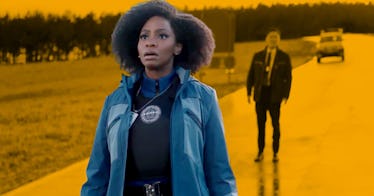 Marvel/Disney+
Remember when Ant-Man was under house arrest for helping Captain America fight Iron Man at that one airport? Well, that specific agent of SHIELD, Jimmy Woo — played by Randall Park — is back for WandaVision. A new trailer for the seemingly pivotal 4th episode, actually straight-up spoils a mystery the show had been hiding for three weeks. So, SPOILERS for a WandaVision trailer ahead!
In the new trailer for episode 4, we follow the character of Captain Monica Rambeau (Teyonah Parris) as she appears to exist in the real world, after being thrown out of the sitcom world by Wanda in episode 3. And next to her is Jimmy Woo, a Marvel character who first appeared in Ant-Man and the Wasp, as the guy who was making sure Scott Lang (aka Ant-Man) wasn't getting up to any trouble. (Spoiler: He was.) The trailer also reveals that it's Jimmy's voice that Wanda was hearing previously, asking the question, "Wanda, who is doing this to you?" Whether or not there is a direct answer to Woo's question is unclear, because you know, it's possible, Wanda is doing this to herself.
Here's the new trailer:
What is really going on on WandaVision?
The revelation that Rambeau and Woo are trying to penetrate some kind of energy field around Wanda seems to suggest that most of the "neighbors" that Wanda and Vision have met are actually agents from the real world, trying to infiltrate the wacky "WandaVision" world. Relevantly, the new trailer also shows us the character Darcy Lewis (Kat Dennings) who first appeared in the Marvel Cinematic Universe in the original Thor (2011.) We've known Dennings was on the show for a while, but this trailer makes it seem like she is one of the people watching the "sitcom" at the end of the first episode.
Are bigger Marvel guest starts coming?
Recently, various WandaVision folks, including Paul Bettany, have teased that at least one big actor's "intense" role in WandaVision has been kept under wraps. Because we know Wanda will have a role in Doctor Strange in the Multiverse of Madness (Elizabeth Olsen is filming the movie right now) it feels possible that Benedict Cumberbatch's Doctor Strange could show up at some point. But, with Kat Dennings and Randall Park involved, people might be thinking about Ant-Man (Paul Rudd) and Thor (Chris Hemsworth), too!
Because WandaVision is keeping so many of its cards close to the chest, it feels like any of these new guest stars are possible. Or, as they said on Monty Python, it will end up being…something completely different.
WandaVision airs new episodes on Fridays on Disney+. Here's a guide to when everything drops.
This article was originally published on