Wanda Teams Up With Doctor Strange In Blurry 'Leaked' Marvel Images
Scarlet Witch looking fly.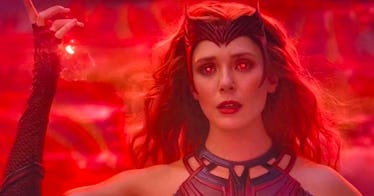 Disney
Fans have become obsessed with parsing through every detail of the Marvel Cinematic Universe in the hopes of getting a clue of what may be coming next and a new "leak" of concept art may confirm a highly-anticipated team-up between two of the most powerful heroes in the MCU.
The "leaked" images, which naturally found their way onto Reddit, show a number of potential spoilers regarding future MCU projects, including blurry looks at the Hawkeye spin-off series and the upcoming Ms. Marvel series. However, the major spoiler is found in what appears to be images from Doctor Strange and the Multiverse of Madness, as it looks like Wanda Maximoff aka the Scarlet Witch is joining the sequel. In fairness, we kind of knew this, cause Elizabeth Olsen basically told us here at Fatherly. But, we didn't know what she's gonna look like!
The post-credits scene in WandaVision kind of told us this was coming, too: that shows Wanda enjoying a cup of tea in a remote cabin while her magic self is reading from the Darkhold, as a nod to her eventually teaming up with Doctor Strange, who has shown similar astral projection abilities.
At this point, all of this is (mostly) speculation but if the images turn out to be real, it does look like the Scarlet Witch and Doctor Strange will, in fact, be crossing paths just as the MCU may finally be diving into the multi-verse. Hopefully, that means that the whole Quicksilver thing could finally be explained.