Wakanda TV Series For Disney+ — Everything We Know So Far
Is it a 'Black Panther' prequel? A sequel? Here's what we've got so far.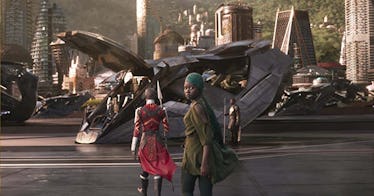 Marvel/Disney
Wakanda forever, indeed. A new television series set in the Kingdom of Wakanda is in the works from Ryan Coogler, who directed and co-wrote the international superhero blockbuster, Black Panther. He has been prepping a big-screen sequel, a process that began before star Chadwick Boseman passed away, and has continued since the actor tragically passed away in 2020. Here's everything we know so far about the Wakanda series:
The show will air on Disney+ . As announced by Marvel, it will be part of a five-year pact the Walt Disney Company signed with writer-director-producer Coogler's company, Proximity Media, and its principals, Zinzi Coogler, Sev Ohanian, Ludwig Göransson, Archie Davis, and Peter Nicks.
Coogler, in a statement within the Marvel press release, noted that he and his company will "work closely" with Marvel Studios and such execs as Kevin Feige, Louis D'Esposito, and Victoria Alonso on select "MCU shows for Disney+." In fact, he added, "We're already in the mix on some projects that we can't wait to share." This implies some seeds for the Wakanda show are probably being sown on WandaVision or Loki or Falcon and Winter Soldier!
Marvel boss Kevin Feige had already publicly said the following: "(Chadwick Boseman's) portrayal of T'Challa, the Black Panther, is iconic and transcends any iteration of the character from any other medium in Marvel's past. It is for that reason that we will not recast the character." So, it's quite likely that the movie sequel will focus on another character emerging as the Black Panther. As for the show, many are speculating that it will be a prequel that explores the world and wonders of the African nation, Wakanda.
So, what are some of the options in terms of storylines the Wakanda series might follow? It could center generally on the Dora Milaje, the kickass female bodyguards/security forces who served T'Chaka, and later, his son, T'Challa. It might be more specifically based on World of Wakanda, the Eisner Award-winning Black Panther spinoff comic by Roxane Gay, which follows the Dora Milaje warriors Ayo and Aneka, who are lovers, and also introduces the villainous character, Zenzi. And how about devoting the whole show to a young Erik Killmonger, born in Wakanda as N'Jadaka? Or to T'Challa's sister, Shuri?
Everything Marvel connects to… everything Marvel. WandaVision builds on the Avengers and will set the stage for the upcoming feature Doctor Strange in the Multiverse of Madness. So, it stands to reason that Coogler's in-the-works Wakanda series will influence – or be influenced by – Black Panther 2.
The announcement of a Wakanda series has us – and countless fans around the world — excited and contemplating the possibilities. Bring it on!
There is no release date (or cast) yet announced for the Wakankda series.
This article was originally published on