Should Your Kid Watch 'Voltron: Legendary Defender' Season 2?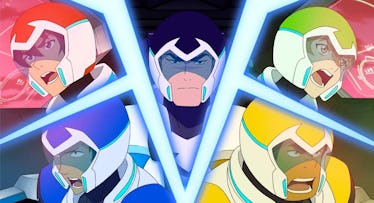 A new season of Voltron returns to Netflix with an all-new season (and plenty of sword-on-metal action). Voltron: The Legendary Defender is just like any space drama you've seen: an evil empire and its ruler (Zarkon) bends civilizations to its will until a metal superhero with a really big sword comes in and saves the day. There's also 5 unfortunately-named space pilots from Earth – Shiro, Keith, Lance, Pidge, and Hunk – who each control a part of Voltron. So it's about teamwork! What can you expect? Well, the second season picks up right where the first ends, with the pilots (or Paladins) separated and scattered across the universe along with their lion tanks. So, should you hang with your kid on the couch again for the next batch of episodes? Or is this Voltron one robot cat shy of a head?
For Kids: Critics and kids loved season 1, so much that Netflix greenlit season 2 a mere month after its premiere. So what did they get right? Super nerds, Joaquim Dos Santos and Lauren Montgomery, spearhead the show and their animated résumé includes Young Justice, Justice League Unlimited and The Legend of Korra. That's the holy trinity of kick-ass kids shows.
Season 2 keeps up the laughs (which you have to do in the face of danger) but doesn't lose focus on their characters. Collider says this season's "character development [and] nods to the original series … is blended nicely alongside the more epic plot conflicts."
But what about sword fights in space? They say there's "special attention to the space battles which are absolutely breathtaking. You've never seen Voltron like this before." Challenge accepted.
For You: Netflix was likely also aiming their sights at you when they rebooted an 80s cartoon for a new generation. Just in case you were too busy playing with G.I. Joes 30 years ago, Voltron's history is murky. In short, a violent Japanese cartoon was adapted for American kids, but the story arcs (and gore) were ditched.
For the reboot, Dos Santos and Montgomery saw an opportunity to run wild creatively. They treated season 1 as an origin story, but season 2, "steps out of the shadow of its original incarnation" says Den of Geek. "It deserves to be taken on its own merits and appreciated for the incredible universe it's created."
Common Sense's Take: Common Sense is the leading nonprofit source helping parents make movie and TV choices for their children. They don't have an official review for season 2, but CSM loved season 1. They called it "exceptional" with "well-developed character stories, and the visual polish fans have come to expect from DreamWorks." Expect more of that.
Bottom Line: The showrunners have created a fun, visually stunning series that's great to watch with kids, regardless of your familiarity with the original cartoon. Like Daredevil (or Fuller House) it's that rare time a reboot surpasses the original.
Voltron: Legendary Defender Season 2 is currently streaming on Netflix.
Episodes: 13
Ages: 8+
This article was originally published on