Vin Diesel's 10-Year-Old Son Rumored To Play His Dad in Fast & Furious Flashback
Apparently, Vincent Sinclair will play a kid-version of Dom in the upcoming 'Fast & Furious 9.'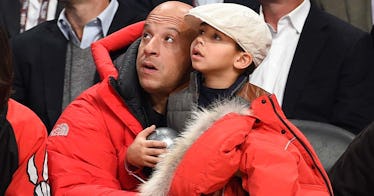 Getty
The Fast & Furious franchise is about one thing: family. And the upcoming ninth-installment is taking that mantra literally, as Vin Diesel's ten-year-old son Vincent Sinclair is reportedly playing a younger version of Vin's character Dom in the movie.
According to TMZ, Vincent filmed the scenes in late 2019 when he was nine years old, receiving the standard daily rate of $1,005. This is not the first time that a younger actor has portrayed kid Dom but last time, it was not Diesel's own son. Alex McGee played little Dom in a flashback in 2015's Furious 7. (To be clear, Diesel has not confirmed this.)
Vincent is most likely playing his dad's characters in flashbacks as well, especially since the plot of Fast & Furious 9 revolves around Dom's brother (played by John Cena), who is a dangerous and deadly assassin, teaming up with Cipher (played by Charlize Theron), the cyberterrorist and primary villain in 2017's F8 of the Furious. So you can probably expect Vincent to pop up in a couple of scenes showing him either bonding or fighting with his brother.
After facing several filming and release setbacks due to the ongoing coronavirus pandemic, F9 is slated for a theatrical release on June 25, which would make it one of the first major films to hit theaters as they slowly begin to reopen. Diesel told EW that despite the delays, he was very excited to share the newest installment of the beloved franchise with movie-goers.
"When you make a good movie, your first goal is to make something that you can be proud of, and in the film business you learn from the very beginning that when the film gets released, even without the pandemic, is rarely in your control," Diesel said. "But when you really think about the quality of the movie, there's more time you have to work in post-production, more time to get the shots right; it does give you a little bit of a cushion."
This article was originally published on