Watch This Mom Make Bonkers One-Hand Catch While Holding Her Baby at MLB Game
She made a Gold Glove grab.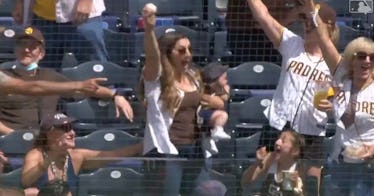 Parents are used to doing a million things at once and one mom flexed her multitasking skills at a San Diego Padres game when she casually managed to catch a foul ball one-handed while also holding onto her infant.
The insane catch happened at the top of the sixth inning of the Padres game against the Cubs on Wednesday. A Chicago pinch-hitter hit a foul ball into the stands. The ball ended up ricocheting off of the upper deck and bounced down to the mom, who had the reflexes to make the leaping grab (without a glove) despite one of her hands being used to hold her baby.
After making the impressive grab, she celebrated with some well-earned high-fives from the fans around her. And fittingly, she was wearing a Manny Machado jersey, as her catch was reminiscent of the type of play the two-time Gold Glove winner routinely makes.
Apparently, this type of catch is nothing new at Petco Park, as Padres outfielder Wil Myers noted on Twitter last month that San Diego fans catch foul balls more than any other fanbase in baseball. Some may accuse him of being a bit biased towards his fans but this mom's amazing catch shows that Myers may be right about San Diego fans having the best hands in the MLB.
It's worth noting that while the mom managed to grab the foul ball, she was behind the safety net, which is meant to protect fans from being seriously injured by foul tips or line drives coming at them at extremely high speeds. The need for safety nets was made painfully clear when a young girl was hospitalized after being knocked unconscious during a game at Yankees Stadium in 2017. By the Opening Day of the 2018 season, all 30 MLB stadiums had safety nets to keep fans safe.