Channing Tatum Showed His Daughter 'Step Up' for the First Time and She Was Bored
He wanted to show her one of his movies. It did not go as planned.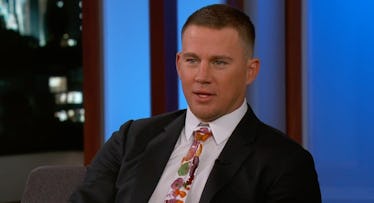 Channing Tatum is one of the biggest actors in the world, but his performances have yet to win over his daughter. Last night, Tatum was a guest on Jimmy Kimmel Live! and told the story of the first time he tried to show his daughter Everly one of his movies. Tatum put on Step Up for her, a movie he assumed she would like due to the dancing and the fact that it starred both Tatum and his wife, Jenna (they met on the set). Unfortunately, Tatum was sorely mistaken. Within five minutes of the movie starting, Everly was bored and began asking him if they could put on a "real movie."
Tatum briefly tried to convince his daughter of the movie's merits, arguing that Step Up was so successful that it spawned an endless flow of sequels, but she remained unconvinced. So he did what any good dad would do: let his daughter watch Moana for the hundredth time. Fortunately, Tatum isn't spending too much time sulking over his daughter's harsh criticism. Instead, he has a plan to win her over.
Like any good dad, Tatum has come to the obvious conclusion that his daughter loves animated movies. So his plan is to do a voice in an animated movie without telling his daughter, show it to her, and, if she likes it, he'll gleefully "rub it in her face." Not the worst plan in the world.
But maybe Tatum should give his daughter some time to warm up to his movies instead. After all, Everly is only four years old. Most kids that age only like about three movies that they want to watch over and over again. With time, Tatum might just find his daughter appreciates all of his movies. Except for Magic Mike. That's one she's probably better off not watching.