Val Kilmer's Kids Talk About Producing 'VAL' — The Documentary About Their Dad
"You get to see sides of him that hadn't been seen before."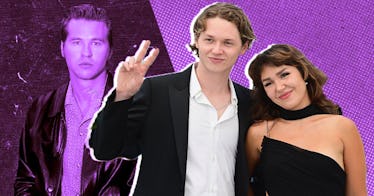 GETTY
Val Kilmer has lived quite the life. He's starred in Real Genius, Top Gun, The Doors, Tombstone, Batman Forever and Heat, and languished in too many B-movies to count. He fell in love with his Willow leading lady, Joanne Whalley, marrying her, having two kids and getting divorced. He's famously clashed with directors (John Frankenheimer on The Island of Dr. Moreau, for one) and co-stars (among them Michael Biehn and Tom Sizemore). He's attended the Oscars… and autograph shows and screenings of his old movies to pay the bills. And in 2015, Kilmer received a throat cancer diagnosis that led to a tracheotomy that affects his ability to speak. Through it all, he has persevered and even thrived. Kilmer is in remission and regularly jokes that she sounds worse than he feels. He wrote a well-received memoir, I'm Your Huckleberry, released in 2020, and continues to act, touring with a one-man Mark Twain show and reprising his role as Iceman in the long-awaited Top Gun sequel, Top Gun: Maverick, opening November 19.
Kilmer's story is the stuff of movies… or at least a documentary. And so it is that he's the subject of VAL, a documentary that works on multiple levels. Directed by Leo Scott and Ting Poo, VAL presents Kilmer as a determined, passionate actor, one who'd, deep down, rather perform Shakespeare on stage than chase star turns in movies. The directors don't shy away from the warts. Kilmer could be difficult, argumentative, and egotistical, and at times he looked down upon the material he'd been handed. What truly sets VAL apart, though, is that the doc doesn't feature endless talking heads discussing the film's subject. Instead, Kilmer essentially narrates his own story, with it complemented by a mere fraction of the thousands of hours of footage he himself filmed over the years. There are screen tests (for roles he did and didn't land), behind-the-scenes moments (with Kevin Bacon, Sean Penn, Tom Cruise, Marlon Brando, the aforementioned John Frankenheimer), and snippets of his family life, past and present, with Whalley, as well as their children, Mercedes and Jack. Actually, Mercedes (who is 29 and a singer and actress) and Jack (who is 26 and an actor) appear throughout the movie. The two co-produced it, and Jack – who sounds exactly like his father – narrates portions of the film, speaking lines from his father's autobiography. Fatherly recently engaged Mercedes and Jack in a Zoom chat, during which they discussed VAL (which is in theaters now and will stream on Amazon Prime Video beginning August 6), seeing themselves on screen in the film, how following their parents into the acting craft was pure destiny, and more.What did you see as your role as producers on this project? Were you protecting your dad? Helping him tell his story? Trying to understand more about your dad? Or D, all of the above?Jack: Yeah. All of the above.Mercedes: I would say D. I couldn't say it better than you just did.Jack: We're both really supportive of our dad in whatever he's into at the time. This documentary is such an amalgam of all of his interests. And you get to see sides of him that hadn't been seen before. And we got to get to know him in another way through making this. It was something that brought us all together, and it was a lot of fun, too.Let's break that down. How amazed were you by the sheer amount of footage your dad had shot over the years?Mercedes: He really is an extraordinary documenter, our dad, and he's also always been really curious about the newest technology, of all media. He's obviously most well known as an actor, but he's really studied the movies so much, and entertainment and media, and music as well. In the 60s, they had the little 16-millimeter (film stock). He's always had the cutting-edge (technology) and has always been really curious. So, I think the movie is such an exceptional piece, not just about him, but even totally aside from his life and his work, it's a really extraordinary film about the 20th century and our relationship to media and our relationship to self-documentation. That's why it speaks to a lot of people, even people that aren't familiar with his work. It speaks to all of us that are living in this day and age, with Instagram and everything, because we all really need to understand what it means to document our lives through images. This film helps to do that.Jack: I think this movie is about family. This is about being creative and being vulnerable. It's about a lot of things, but one thing that's really cool about this movie is if you're interested in making films, you get to see my dad learn how to act in movies through his own home videos. So, from when he was a kid, he would set up shots. He and his brothers would make home movies. He was learning always through his video camera how to how to act in movies and how to make films. There's all this… he calls them "inserts." (Director) Leo (Scott) had to get to know him through all this footage, and if there's ever a bird or a ladybug, my dad would say, "Let's grab an insert." One of my favorite scenes is Mercedes as a baby. She must be like six months old. He's saying, "This is Mercedes' first over-the-shoulder." It's a balance with making a documentary, where you have to set up these moments, but you also we want it to be as real as possible. So, quite a lot of the shooting of it was just us living our lives and being normal. Leo just wanted us to be normal. There was no ceremony to set any of the interviews or anything like that.Mercedes: Leo and Ting were so genius at (creating) something that was so natural and organic, and… I don't even want to say casual. But just.. real, just really genuine. And then they also elevated that to something that was symbolic. Like, there's this one scene where me and my dad live next to each other. You see us getting ready, and it's like this Laurel and Hardy, Hollywood Hills, silent comedy. The audience thinks we're in two different spaces, and then we walk out and we're next door to each other. They were so good at picking out moments, natural real moments in life that were elevated in a cinematic way. And then you see my dad too, his home movies. He's always very interested in getting at the truth and really documenting things, but he's also got such a good eye for what is cinematic and what's entertaining.Your mom is a big factor in the movie when she's on screen, and when she's not. How important was it to you two and to your dad to include her as much as she was willing to be included?Mercedes: I can't overstate that this film really does genuinely present my dad's life accurately. I can't think of anyone ever saying that on any documentary. In terms of the relationship of our parents, it does really describe, from my dad's perspective, how much my mom is involved. It wouldn't have made sense to have her be more involved, to have her occupy more of the film, because they've been divorced for 25 years, you know? So, she was included, I think, as much as it was appropriate. And, of course, she always says — even though they didn't stay together — that (family) is forever. They did take it very seriously that they chose to have us together forever. So, we're still all involved in each other's lives.Your dad completely lights up whenever you two are involved, whether it's when your little kids, when he's with you more recently, or during a phone call with you, Mercedes. You couldn't see his face in that moment, but the documentary's camera captured it. What was it like for both of you to actually watch the footage of his loving reaction to you guys?Jack: It was really beautiful and vulnerable and emotional. It was great. Especially the stuff when we were kids, you get to see how happy he was to be a daddy and take us around New Mexico.Mercedes: Jack said it pretty well. It was lovely to see him when we're not there, what he's up to.You're the children of actors and now your both actors. Did you want to follow in their footsteps? Was it basically destiny that you're acting, too?Jack: I say it was destiny.Mercedes: Oh, totally. I got them as my parents. I love acting. I love the movies. And I love art. So, I probably chose these people to come to give birth to me, somewhere, before I was born. I couldn't imagine being born in any other circumstance. And I'm happy to have my parents.VAL is in theaters now and will stream on Amazon Prime Video on August 6.