Netflix Has Another New He-Man Show. Allow Us to Explain.
Will the real Masters of the Universe please reveal themselves?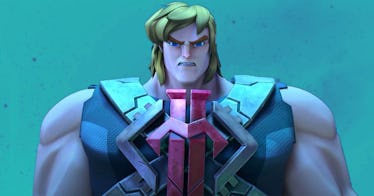 NETFLIX
Netflix is really-really-really in the He-Man business. No less than Kevin Smith oversaw the streamer's series, Masters of the Universe: Revelation, which debuted in July to strong reviews. And starting September 16, fans can expect He-Man and the Masters of the Universe.
Interestingly, the two shows couldn't be any different.
Revelation is a sequel to the old, classic 80's iteration of He-Man. It's for adults. And after Chris Wood, who voices Prince Adam/He-Man, it's an all-star voiceover affair. The cast includes Mark Hamill, Lena Headey, Sarah Michelle Gellar, Alicia Silverstone, Dietrich Bader, Stephen Root, voiceover legend Kevin Conroy, Smith pal Jason Mewes, Justin Long, Tony Todd, Cree Summer, Phil LaMarr, Dennis Haysbert, and Harley Quinn Smith. And the animation is dark, pretty hardcore.
Based on the trailer for He-Man and the Masters of the Universe is targeted directly at kids. Yuri Lowenthal heads up a voice cast that's familiar but not super starry. The characters are much younger. There's a Power Rangers vibe to the action and the interactions of the characters. The animation is brighter and zippier, though we're happy to say that the baddies look pretty badass, rather than muted down to nonthreatening. There's a rah-rah spirit to the dialogue: "Saving Eternia is up to us." The challenge presented is succinctly, dramatically established: "To know oneself… is to truly become… a Master of the Universe." And the humor is teased with this line, which comes right after the challenge: "A Master of the what now?"Is there room in the universe for two Masters? And two Masters on Netflix? It all depends if kids actually like this second version.Masters of the Universe: Revelation is streaming now on Netflix and He-Man and the Masters of the Universe will premiere on September 16.