'Twin Turbos' Brad and Doug DeBerti Share a Serious Love of Horsepower
The father and son duo who star in the new Discovery Channel show build custom cars to fund a NASCAR dream.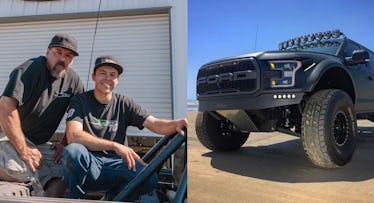 Discovery; Instagram/braddeberti
If you were to grab Doug and Brad DeBerti by the collar and jiggle them, you'd probably hear the sound of clanging car parts. That is to say, the father and son duo are a serious set of gearheads. Doug is the owner of the world-renowned DeBerti Designs and has spent the past 25 years building ridiculous custom cars and trucks (just check out their 545 hp F-22 Fighter Jet-inspired Ford Raptor). Brad, meanwhile, grew up helping his dad with the custom builds and is also an up and coming racer: With his dad as his coach, the 22-year-old won the 2016 Lucas Oil Off Road Pro-Light Championship and 2017 Pro-Light Rookie of the Year but was sidelined after a brutal crash. Now, however, he's vying for another shot at a NASCAR career. As stock car racing is a costly career, the father and son are now creating cars to fund it. Custom builds and high-stakes racing make for pretty compelling TV viewing, so the Discovery Channel decided to document them for a series. Called Twin Turbos, it debuts February 28th at 10 p.m. Fatherly spoke to Brad and Doug about their lifelong passion for building cars and how they handle working together.
Cars have been a big part of your lives from the very beginning.
Doug: Brad was born in a car! Not literally but he may as well have been. Cars have been my passion since I could afford a vehicle and so Brad grew up with nothing but vehicles. His passion comes from being in the shop his whole life. My big thing was I would never let my boys play video games or watch TV when it was light outside so they would be riding around on their bikes or working with me in the shop from a young age. Getting that hands-on experience really fed Brad's passion for working on vehicles.
How did the idea of a show first start to form?
Brad: We built a vehicle for the SEMA (Specialty Equipment Market Association) show and it was a Ford Raptor. And we love building these crazy one-off vehicles and that one went on to win a lot of awards, including a designer award from Ford. That got us some attention and then Discovery Channel came on and loved the concept. We didn't have to change anything, there are just cameras around. Now people get to see all the fun and work that goes into a build.
Twin Turbos shows off your dynamic really well. Has it always been this way?
Brad: We're always having fun. Hanging out [with Doug] is like hanging out with your best buddy, except he's my dad. We're constantly cracking jokes and laughing all day. And somehow we never get sick of each other. We spend most of our waking hours together and we both have a blast working together.
Doug: We also work really hard. If we both have our mind set on something, we're going to get it done. But I think we just have a positive energy that sets us apart from a lot of the dramatic relationships you might see elsewhere [on TV]. We are always looking for a challenge. And when we see a new problem, we don't dwell on it. We fix it. We're a team at all times. Of course, sometimes we have disagreements. Mainly due to me because I'm older and more impatient.
Brad: Or he just needs some coffee.
So you guys don't fight often when working together?
Brad: We don't agree all the time, of course, but we would never resort to name calling or putting the other down because of a disagreement. Instead, we'll walk away and allow ourselves to cool off.
Doug: And when we do disagree, we still respect each other's opinions and ideas. We don't get angry or annoyed that we're not seeing eye-to-eye. But most of the time, we are on the same page whether we are working on something or just enjoying each other's company.
Do you guys have a favorite car that you've built together?
Brad: Every time we build a new car, I literally will say, "This is my favorite one." We are so determined to top ourselves and get better that I always end up loving our latest build.
Doug: My favorite is a drift truck we built from the second episode. It is awesome.
Did you ever imagine your shared love of cars would lead to all of this?
Doug: I had no idea. I just started with passion. I didn't have any big ideas about what my love for cars would lead to. Working hard and finding what you really love and care about can lead to unexpected things. We just feel fortunate for where we've been and where we're going.
Brad, this show is really about your big comeback. Are you ready?
Brad: I love racing so much and that's my passion, so even though I wasn't behind the wheel immediately following the crash, I trained like I was. So I was mentally and physically ready to get back out there and that became a part of the show.
This interview has been edited and condensed.
This article was originally published on