Alex Trebek RIP: Here's How the World Reacted
The beloved host of 'Jeopardy!' is dead at 80. The best tributes reminded us of why Trebek will be so missed.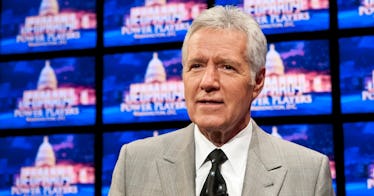 GETTY
The question is: The coolest and most inspiring game-show host ever. The answer, of course, is: Who is Alex Trebek? After battling pancreatic cancer for years, Alex Trebek has died. For those following his ongoing battles and triumphs, the news of his death is doubly shocking. Not only is the loss of such a beloved public figure a massive bummer, but also, for a while, it felt like Trebek was immortal.
Well, he is immortal. Kind of. Not only will ABC continue to air new Jeopardy! episodes with Alex Trebek for the next six weeks, the impact of Jeopardy! and Trebek's kind and cool demeanor as the show's host will last for as long as people are obsessed with trivia. For generations, Trebek has been the guy who had all the answers (or questions) but managed to make you feel good even if you got most of the clues wrong. Trebek liked to surround himself with smart people, and in doing so, turned being smart into something noteworthy and heroic. Every kid who watches Jeopardy! gets the same message: Knowing things is more valuable than spinning a wheel or jumping through hoops. Trebek taught kids and adults alike that lesson over and over again: True knowledge is the greatest treasure, and the best part is, you can never really stop learning.
After Trebek's death, fans and colleagues around the world paid tribute. Here are some of the ways people are celebrating the life and career of Alex Trebek.
CBS reminded us that Trebek once hosted a music show called "Music Hop."
Ken Jennings reminded us that Trebek was "the best ever."
Some people are already asking for a reboot of SNL's "Celebrity Jeopardy."
Like, people really want this Sean Connery-Alex Trebek thing to happen. (Note, Connery was never on Jeopardy! IRL.)
Many posted excellent time-elapse videos, show us Trebek's looks over the years, including his waxing and waning mustache..
But best of all, people who were inspired as children (and some former childhood contestants!) shared their thoughts. Kendra James, a non-fiction writer, and the editor-in-chief of Star Trek.com, noted that she won her first personal computer because of Jeopardy!
Here's how you can watch Jeopardy! on Netflix (for now.)
Jeopardy! currently airs at 7:30 pm EST on weeknights on ABC.