Raise Your Mops! Peter Dinklage Is Perfect For 'The Toxic Avenger'
A B-movie from the '80s is getting rebooted with a Game of Thrones favorite.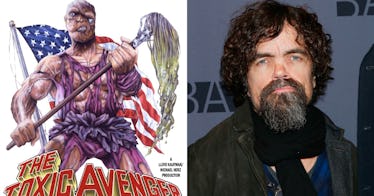 Troma Entertainment/Getty
Get out your mop! Toxie will be back – in the form of Peter Dinklage. Yes, it's true. Dinklage, the Emmy Award-winning star of Game of Thrones, Elf, My Dinner with Herve, Avengers: Infinity War and X-Men: Days of Future Past, will play the title character in a modernized reboot of The Toxic Avenger. Fans of cult-favorite classics will recall that Lloyd Kaufman and Michael Herz introduced the wimpy weakling-turned-mutant hero back in 1984, when they produced and directed the splatter film and released it through their company, Troma Entertainment. The character went to appear in several big-screen sequels, a stage musical, a kids' cartoon series, a video game, and even a Marvel comic book.
According to the Hollywood trade paper, Variety, Macon Blair, who most recently helmed Netflix's I Don't Feel at Home in This World Anymore, will write and direct The Toxic Avenger, with Kaufman and Herz on board as producers. In the original film, Toxie begins life as Melvin, a nerdy and scrawny janitor at a health club in the crime-riddled town of Tromaville, New Jersey. After being tormented by a gang of cruel bullies, Melvin falls three stories into a vat of toxic hazardous waste and soon emerges as a disfigured, super-strong, all-American superhero. We're stoked for The Toxic Avenger, but we've got a few questions. Will the remake be a hyper-violent as the initial version? Can we expect to Dinklage's Melvin to wear a pink tutu and kiss a sheep? And might Marisa Tomei, who made an early-career uncredited appearance in the original film, return for the reboot?