Your Favorite 'Iron Man' Scene Created the Whole Plot From 'Spider-Man: Far From Home '
11 years ago, Jeff Bridges yelled at the dude from 'A Christmas Story.' Now, it's all come back around in the most random way possible.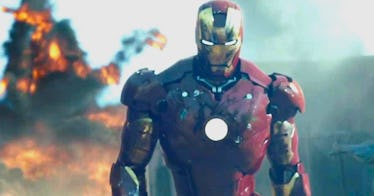 Credit: Marvel Studios/Paramount
Remember the greatest scene in Iron Man in 2008? No, it's not when Tony Stark says "I am Iron Man" and it's not when he first tests the suit. It's the part when Jeff Bridges yells at that random dude: "Tony Stark was able to build this in a cave!! With a box of scraps!" And now that bizarrely specific diss has created the entire evil scheme from Spider-Man: Far From Home.
Spoilers ahead for Spider-Man: Far From Home.
Pretty much everyone — including the audience — misses Tony Stark in Spider-Man: Far From Home. Iron Man, the world's premiere superhero and young Peter Parker's mentor, sacrificed himself to save the world at the end of Avengers: Endgame and the new Spider-Man film sees Spidey, along with everyone else, dealing with a post-Blip, post-Iron Man world. However, there are some characters from Iron Man who make appearances in Far From Home, including one character whose inclusion is much, much more surprising than Happy Hogan or Nick Fury's — especially once you realize who plays him.
The big twist in Far From Home comes when Quentin Beck, a.k.a. Mysterio (Jake Gyllenhaal) reveals that he's not actually a superhero from an alternate dimension. Instead, he's a disgruntled ex-employee with a grudge against Tony Stark. He's aided by other former employees, including a face who only appeared once in the MCU, 11 years ago, but it was a very, very memorable and meme-able moment.
Yes, it's the "Box of Scraps" guy, or to be more accurate, the guy that Jeff Bridges' Obadiah Stane was screaming at because he couldn't miniaturize Tony's Arc reactor in order to power the Iron Monger suit. William Ginter Riva was a scientist at Stark Industries in 2008 when Stane, growing increasingly power-mad, ordered him to do what Tony did.
"I'm sorry I'm not Tony Stark," Riva squeaks back.
That one scene was all viewers ever saw of Riva, whose name they didn't even know at the time, and chances are, nobody expected to see him again. That's why it was such a shocker that he appeared by Mysterio's side, having also adopted a grudge against Tony Stark.
Perhaps more than anybody except for Beck, Riva was responsible for Mysterio. Beck's hologram technology — which Tony rechristened B.A.R.F. to Beck's dismay — provided the illusions and visuals, but Riva's drones provided the destruction. It was Riva who programmed most of the provided choreography for the Mysterio fights, and it was his drones that actually destroyed parts of Mexico, Venice, Prague, and London. For a character who appeared in one minor scene, Riva is incredibly important to Far From Home, and the MCU at large.
Riva is clearly a bad guy, which means he should be getting coal for Christmas. That's a tragedy since the character is, amazingly, played by Peter Billingsley, who is best known for playing Ralphie in A Christmas Story.
Yes, the kid from the 1983 holiday classic A Christmas Story grew up to become a Stark Industries employee, and later, a weapons designer who aided a supervillain in killing and deceiving people.
In the real world, Billingsly has been acting here and there in the decades since his most iconic role (Christmas movie fans might recognize him as Buddy the Elf's superior in the Will Ferrel-led Elf), but he's mostly moved behind the camera. Billingsley has numerous production, writing, and directing credits for film and especially TV. He was actually an executive producer for 2008's Iron Man, which might explain why he popped in for that small little role. (He's not listed as a producer for Far From Home, however).
So, there you have it. A minor character from one of the MCU's most beloved moments 11 years ago appeared unexpectedly more than a decade later to be a surprisingly important villain in Spider-Man: Far From Home, and he was played by the Christmas Story guy a whole time. Heck, he almost shot Spider-Man's eye out!