Tony Hale Won't Let His Kid Watch 'Arrested Development' — Yet
Why "the incredibly codependent" Buster Bluth is too much for this dad to handle.
by Donna Freydkin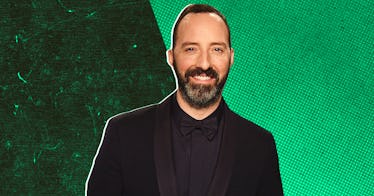 GETTY
There's an inherent sweetness to Tony Hale, coupled with an expressive, impish sense of humor. It's what made him so endearing as bumbling, neurotic, one-handed Buster Bluth on Arrested Development and perpetually brow-beaten yet doggedly loyal vice presidential "moon" Gary Walsh on HBO's Veep, which netted him an Emmy.
His comedy doesn't come from a place of meanness or malice, and that is precisely what makes him uniquely suited to be the Tom Hanks of kids' movies. Yup, that's him, voicing Forky in Toy Story 4 and Tobias the elf in the Doc McStuffins special. You'll see him as Tieran in the upcoming Clifford the Big Red Dog. And on October 1, he's Darth Vader's own Gary, the servant Vanee, in the Lego Star Wars Terrifying Tales special. On Friday, he wraps up his dual roles as twin brothers Mr. Benedict and Mr. Curtain in the Disney+ series The Mysterious Benedict Society, based on the YA books by Trenton Lee Stewart.
"It's different, coming from Veep to something like Benedict. I had to find myself in each character. Mr. Benedict is very affable and encouraging and loving. And hopefully, that's very easy to find in myself, whereas Curtain, he can be very manipulative," says Hale.
He talks to Fatherly about empathy, kindness, and tapping into both while teaching his kid to drive.
You're the king of kids' movies. Please tell me you don't have a raging dark side.
Today's the day I let you know I've killed 10 people. I'm really grateful to be given this opportunity because there are many, many hundreds of thousands of actors out there. And I am very grateful to have the gigs. I go back to trying to find the humanity in these characters and someone like Benedict, empathy is such a part of his life.
When working with kids and when working on these shows, so much of acting is listening and it's something I'm constantly working on. Empathy plays a big part in it. I love discussions and getting to know people. I'm not a big traveler. I would much rather sit around a fireplace with a bottle of red wine with friends and just talk.
Benedict is aimed at the YA audience. Your daughter is 15. Does she appreciate that you're headlining the show as two characters?
She definitely appreciates what I do. But also, I'm her dad. People have asked if we've watched Arrested Development together. We haven't really, and I've thought about it. I think specifically there's one scene where Jessica Walter's character, Lucille — she can't smoke because she's on house arrest. So she gets me, Buster, to inhale the smoke from her mouth and then exhale it on the balcony. And do that over and over again. Do I really, really want to sit with my daughter and watch this incredibly co-dependent crazy scene unfold in front of us? I'm not there yet. We do watch Benedict together and she really does enjoy that a lot.
I understand you're teaching her to drive. How's that working out for you?
I have anxiety about it. I was kind of hoping that she would be a kid that didn't want to drive. But she was really excited about it, which is great, but my anxiety kicks in. Because it's all about defensive driving. She's studying and we're going on practice drives. It's all that lesson of surrendering control. So I want it to be calm. It's just trying to not freak out because I want her to be calm. So I want to be calm. I need to be calm.
You've also got Clifford, which opens up a whole different audience for you.
We shot that two summers ago. I pay this guy, he's definitely the antagonist and he has mixed motives. It's really fun to play a little bit of the dark side. And coming from Veep where he never could speak — Gary was even called the bitchy mime on the show. I genuinely was not allowed to speak. To kind of fight back and have a voice — I think I'm making up for lost time.
You're also in the upcoming Lego Star Wars Terrifying Tales. So is your character the Gary of Star Wars?
That's a good way of putting it. He is kind of like the Gary, but he's much, much darker. Gary had a big sweetness to him and he worshiped Selina. Vanee knows what's going down.
I think I'm not alone in saying I'd pay big money to see you and Julia Louis-Dreyfus reunited for a Veep special of some kind.
We did it during the election. We did a big Veep reunion to raise money when that was all happening. Any chance I can get to be with those people, I just love it. On Veep you always felt heard. If something felt off, we would explore it, even if it doesn't go anywhere. Everybody had the space to make it better. Where can you drop your coat? How can we keep adding in a level?
The Mysterious Benedict Society airs on Disney+.
This article was originally published on