Tomie dePaola Has Died, But Strega Nona Lives On
A one-of-a-kind author and illustrator, Tomie dePaola's children's books aren't just classics. They're masterpieces.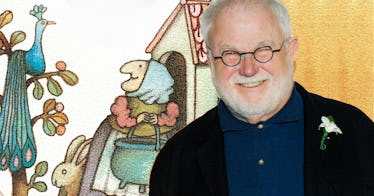 Getty
As a child in the '80s, I had a book-and-tape set of the children's book Strega Nona. The set also came with a lumpy, plush Strega Nona doll that faced stiff competition from my various action figures and dinosaur stuffed-animals in the affection department. That said, my Strega Nona doll was one of the childhood possessions that I regarded as "real" while many of the other toy characters I knew were "pretend." But why did I think of Stega Nona as an actual character as opposed to the "fakeness" of, say, He-Man? Well, I think that distinction is the result of the talent and quiet brilliance of author Tomie dePaola.
Sadly, dePaola died this week at the age of 85. He wrote and illustrated over 200 books, but it's his picture book about a "Grandma Witch" who makes a pot of magic and nearly apocalyptic pasta noodles that we'll all remember. There are a lot of reasons to love DePaola's oeuvre, but for kids like me, he'll always be the guy who created Strega Nona and immediately made cooking seem awesome and terrifying at the same time.
I think what makes Strega Nona such a great book is that although it was published in 1975, as a kid, you got the sense this story had been around forever, and, for some reason, was history. I'm not sure when I started to think of Strega Nona as a kind of picture book memoir, but to this day I can't shake that feeling.
DePaola's illustrations are deceptively simple, and I think that's because they imply that you've actually seen this before. Essentially, the story of a nutty Grandma Which cooking up pasta that could engulf an entire village wasn't mind-blowing to me at five or six years old. No. Strega Nona is a little more pervasive than that. It's like the book is subtly implying that yes, you're aware of this already, right? Everyone knows this story, but here it is in case you missed it.
Why did I think this? Why did you think this? It's because dePaola prefaces the whole thing with a delicious lie right on the cover: "An old tale retold and illustrated by Tomie dePaola." But here's the thing: DePaola made it all up. This trick isn't unique to this book or dePaola himself (who else thought The Princess Bride was a documentary?) but I'd argue that it would have worked even without this fabrication. The feeling of the story, the illustrations, and the confidence of the magic make it feel real, even if your brain insists magic pasta isn't real.
Somewhat coincidentally, author Michael Chabon recently read the sequel to the famous book, Strega Nona Meets Her Match, during one of his quarantine storytimes on Instagram. I'd like to point out that this post from Chabon went online before dePaola passed way, and I think that's relevant because it sort of proves how deeply entrenched dePaola's work was in the minds of parents and former children everywhere. His are among the books we reach for when we raid the attic for the old books we love.
This isn't an author we suddenly remembered when he passed away. Tomie dePaola will live forever, and like Strega Nona, the magic of his stories will continue to replicate well into this century.
This article was originally published on